It is very common question "What to cook today?" Most of the Indian ladies will definitely get agree with this. Taking a decision is not easy task. You have to think about many factors. Food must be loved by everyone in the house, it must be healthy. Is there any solution for this every day question. I really don't know if anyone has answer for this question. But one thing is very sure that, if you know what food gives, what kind of nutrition, then it is really easy to cook a recipes which healthy and tasty too. This post provides readers with easy, healthy recipes that are perfect for busy weeknights. We'll cover a range of dishes, from hearty stews to light salads and everything in between. We'll also provide tips for making the most of your ingredients, and offer advice on how to make healthy meals that are both delicious and nutritious. Whether you're looking for a quick dinner idea or a healthy meal to take to work, you'll find recipes here that will help you get dinner on the table in no time.
If its here, it's healthy
Growing children needs lots of proteins, but which food is high in protein and tasty too? Hard working person needs adequate carbohydrates, but which ingredients gives high carb and low fats? Pregnant ladies needs iron rich food but which food is good for blood building? You want to loose weight, but you don't know which food to eat? How can we use all possible nutrition in every day diet routine so as to achieve an integrated approach to a balanced diet or more generally to preserve wellness? If you are also dealing with such questions, then understand food constituents and it's relationship with your body. These simple traditional food recipes around the world can turn any kitchen into a preventive and healing center. Make your every dish so balanced that you don't have to take extra artificial vitamin and mineral supplements.
Good Health Starts at Home
Good health starts at home with healthy lifestyle habits. Eating a balanced diet, exercising regularly, and getting plenty of rest are essential for physical and mental well-being. Additionally, it's important to create an environment that supports these habits, such as having healthy food options in the home, making it easy to exercise, and providing a comfortable place to relax and get a good night's sleep.
What common household herbs have healing properties?
Herbs have been used for centuries to treat many illnesses and ailments. There are a variety of herbs that can be used for healing. Some of the most popular include ginger, turmeric, and chamomile. Each herb has its own benefits and can be used to treat different conditions. For example, ginger can be used to reduce inflammation, while turmeric can help improve digestion and reduce pain. Chamomile can help reduce stress and anxiety. Here are few common household herbs:
Basil: Known for its anti-inflammatory and antioxidant properties, basil can be used to help reduce inflammation and boost immunity.
Garlic: Garlic contains allicin, a compound with antimicrobial and antifungal properties that can help fight infections.
Ginger: Ginger is packed with antioxidants and has anti-inflammatory properties that can help reduce pain, swelling, and stiffness.
Rosemary: Rosemary has anti-inflammatory and antioxidant properties and can help reduce stress and improve memory.
Thyme: Thyme has antiseptic and anti-inflammatory properties and can help fight respiratory infections.
Turmeric: Turmeric has anti-inflammatory and antioxidant properties and can help reduce inflammation and pain.
Quick and Healthy Veg Recipes
The food we eat decides our health. Food plays vital role in our over all health and physical development. Not everyone needs same amount of energy or same amount of fats everyday. Growing children needs more protein, where as working adults need more energy. Sports person need more of carbohydrates and fats where as older people need more vitamin and minerals to stay healthy. There are millions of websites offering best recipes. My intention is to give health nutrition information of food, so you can choose recipe as per your requirement, so as to stay healthy. Super simple, quick recipe along with some unique traditional home made recipes that will take you back to grandparents era. Ayurveda mentioned tips to explain how to cook and eat food so as to get maximum benefits.
Healthy Recipes for Weight Loss
It is hard to find recipes specifically for weight loss. A full day meal plan for those who want to loose 10kg weight. It includes sugar free and oil free recipes. Customized meal which is suitable for Indian life style. Easy to cook recipes with easy available kitchen ingredients. Natural fat burning home made drinks recipes to lose belly fat. After trying lots of best promised diet, even if you are not loosing the weight, then you are definitely at right place. If you're looking to lose weight, you know that diet is key. But finding the right recipes can be a challenge. Never fear – this post is here to provide you with delicious, nutritious recipes that make weight loss easier. From breakfast to dinner, we've got you covered with recipes that will make mealtime exciting and help you stay on track with your weight loss goals. So grab your apron, and let's get cooking.
Healthy Recipes for Kids Tiffin
Schools are reopening soon. Making tiffin which is full of nutrients, is not easy work. List of different menus which you can rotate in different fashion to get unique food combinations everyday. Children want everyday something new, and we have given you 7 ideas for all 7 days a week. For busy parents, packing healthy tiffin's for their kids can be a challenge! With the right recipes, however, it doesn't have to be difficult. From quick and easy snacks to nourishing meals, there are plenty of recipes out there to help you create tasty and nutritious meals that your kids will love. Here are some delicious and healthy recipes for kids tiffin that you can whip up in no time.
Protein Rich Recipes
Are you bored of eating idali, parathas, dosa, pesarattu, egg, toast, upama and poha everyday. Here are few new, creative and innovative meal ideas. 7 days a breakfast, lunch, snacks and dinner, which means too much to think. With the help of simple ingredient like oats, one can make variety of recipes that involves no-cooking at all. Just with simple tips make DIY grab and go breakfast. "Overnight Oatmeal" is one of such best option. Everyone is looking for quick and easy meals which are packed with calcium, protein, carbohydrates, vitamins and minerals. Also recipes which helps body to absorb nutrients completely from food. This blog post will explore some of the best protein-rich vegetarian recipes that are easy to make and full of flavor. We will provide a range of recipes that are suitable for both beginner and experienced cooks, and they will all be packed with essential nutrients and plant-based protein. From delicious and filling soups to hearty grain bowls and even vegan burgers, we have a selection of protein-rich recipes that will satisfy even the most discerning of eaters. With our tips and tricks on how to make the most of these recipes, you can be sure to create an amazing meal that is both nutritious and delicious. So, whether you are looking for a nutritious, protein-rich meal for yourself or for your family, this blog post has something for everyone.
Vegetarian Ideas
Proteins are the building blocks of life and is an important part of a healthy diet. Every cell in the human body contains protein – muscles, bones, skin, hair, and virtually every other body part or tissue. Many people claims that, to get enough amount of protein one should switch to non-vegetarian diet. But it is not true. There are many plant items meals which are rich in protein, yes and most important with no chicken. So which vegetable / fruit is rich in protein? Does paneer have protein? What is the cheapest source of protein? What is a good protein breakfast? Checkout information and Protein Rich Recipes – Mushroom Paneer Kabab, Cheese Salad Dressing, Panner Paratha, Palak Paneer, Moong Dal Dhokala, Quinoa Upama, Soya Chunk Curry, Garlic Green Beans, Oatmeal, Oats Dosa, Chia Seed Pudding.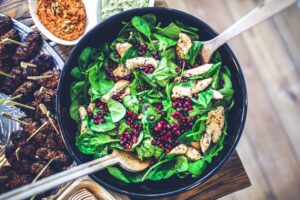 Food we eat has power to heal. If you know which food impacts how on your body, you can easily decide which balanced diet is suitable for your own health. Food we eat should be enough nutritious for building and strengthening the body's natural immunity and defense mechanisms.
Heart Healthy Iron Loaded Recipes
Breakfast is the most important meal of the day. Breakfast must be rich in energy and carbohydrates. Eating balanced and healthy breakfast is getting harder, due to busy lifestyle. People who are not taking full breakfast in the morning, can end up with non healthy snacking through out day. This unhealthy snacking can lead into weight gain and other eating habit disorders. Are you looking for healthy, iron-rich recipes that will keep your heart healthy? Look no further! This blog post will provide you with a variety of ideas for meals that are not only packed with iron, but also delicious and nutritious. We'll explore a variety of dishes from breakfast to dinner so that you can get your daily dose of iron. From hearty vegan chili to a savory beef and spinach stir-fry, you'll find something delicious and healthy to enjoy. We'll also provide tips on how to incorporate more iron-rich foods into your diet and the health benefits of doing so. Whether you're looking for a quick snack or a full meal, you'll find something to satisfy your taste buds and your nutritional needs.
Iron Rich Food Tips
Iron is part of hemoglobin, a protein which carries oxygen from our lungs throughout our bodies. Deficiency of iron can cause anemia, which eventually leads into heart problems, pregnancy complications, delayed growth and development. People who do not eat meat may have a greater risk of iron deficiency. So what is the best vegetarian food alternative to get high iron? Heart Healthy Iron Loaded Recipes Ideas – Beetroot Paratha, Beet Root Cutlet, Easy Sauteed Spinach, Sesame Jaggery Ladoo, Apricot Halwa, Pomegranate Juice, Moong Dal Spinach Soup, Healthy Dates Bar.
High Vitamins and Minerals
Vitamins and minerals are useful to protect against disease. Vegetables and fruits are the best sources of vitamins when consumed in natural form. So try some simple recipes with vegetables and fruits which includes less cooking time in order to preserve vitamins. Explore drink recipes such Smoothies, Guava Juice, Sharbat, Soups, Lettuce Salad, Low Carb Fruit Salad, Mango Pachadi, Vitamin C Salad, Sesame Seed Dressing with Broccoli.
Carbohydrates – High Carb Ideas
Balanced meal full with carbohydrates are good for lunch and breakfast menu, as it gives energy that will lasts for a day. Sugars, starches and fiber are carbohydrates so we have plenty of options available – bread, noodles, pasta, crackers, cereals, and rice. Just few tricks and tips can make variety of combinations. Recipe Guide for One Pot Meal – Quick Rice, Pancakes, Roti, Sabji, Idali, Sambar, Dal, and many more.
Fiber Rich Lunch
Fiber from wholegrain sources has shown to decrease the risk of cardiovascular disease, type 2 diabetes and colon cancer. Food high in fiber helps to treat constipation. All kinds of salads are high source of fiber. Fiber Rich Vegetarian Dinner Ideas – Three Beans Salad, Whole Wheat Pasta, Baked Potato, Bran Cereals, Popcorn, Banana Bread, Stir Fry Brown Rice Recipe.
Fat – Good Unsaturated Fats
Not all the fats are unhealthy. Fats also known as lipids. Fats always does not means oil. There are 2 types of fats saturated and unsaturated. Saturated fats also known as "bad fats" as it gives negative effect on heart health. The saturated fats generally come from animal sources. Unsaturated fats are good for health. Omega-3 and omega-6 fats are polyunsaturated. Omega 3 is an important fat present in fatty fish and nuts which essential for brain function and needed by most cells. Olive, canola, grape seed, sunflower, safflower, peanut, macadamia are few source for good fats. Check out recipes that includes …… Good Fats – Peanut Ladoo, Homemade Clarified Butter, Peanut Butter Sandwich, Dry Fruit Dessert, Avocado Spread, Pumpkin Seeds Dressing, Sunflower Seeds Chutney, Sesame Seeds Sweet Roti, Flaxseed Mouth Freshener, Walnuts and Soymilk Recipes.
Calcium Rich – Non Dairy Recipes
Grandma's Kitchen – Time Honored Recipes

Pregnancy Meal Plan
Post Delivery – Postpartum Period: 40 days or 6 weeks period, after giving birth to the child, is very important for mother. This is the time required by the body to get back to the normal routine. In order to get back to normal and to overcome weakness, it is very important to have balanced diet. Plus few energy giving food and Ayurveda prescribed medicines are advisable. Sharing here some traditional food recipes believed very helpful during postpartum period (puerperium / fourth trimester).
Baby Food – Another important and very common issue to deal with is baby food. As babies yet do not have teeth and taste buds developed, it is really hard to understand their choices. Also recipes has to be healthy that is full with proteins, carbohydrates, vitamins and minerals. Few powders can be made in advanced so as to cook food quickly as and when required. Baby Food Step By Step Guide – 0 to 6 months, 6 to 12 Months, 1 to 2 years ……
Tiffin Tips – Whether it kids tiffin, working women tiffin, patient's tiffin, fasting food, weight loss diet plan, or just a picnic lunch. Our healthy tiffin recipe guide assures that you get balanced diet.
Dry Powders – Recipes for few popular traditional dry powders. Can be made in advance so as to save time and efforts later. These powder has longer shelf life and can be packed and transport easily. Metkut, Sattu Atta, Chutney, Thalipith Flour, Sathu Maavu, Garam Masala, Dhokala Flour.
Pickles and Jam – Authentic homemade pickle recipes such as Raw Mango, Lemon, Amla, Cucumber, Garlic, Green Chili, Dill. Learn traditional way to preserve fruits with jams and jelly recipes.
Tips to Stay Healthy with Today's Busy Lifestyle
Living a healthy lifestyle is essential in today's busy world. With all of the demands on our time and energy, it can be difficult to find time to exercise and make healthy meals. However, a healthy diet is essential for your overall health and wellbeing. Here are some tips to help you maintain a healthy diet and lifestyle, even in today's busy world.
First, plan ahead. Take the time to plan out healthy meals and snacks for the week. This will help you stay on track and ensure that you have healthy food options available when you need them. Shopping for healthy ingredients in bulk and prepping meals for the week can also save you time and help you stick to your goals.
Second, make time for exercise. Even if you're pressed for time, it's important to make time for physical activity. This can be as simple as taking a few minutes each day for a brisk walk or doing an at-home workout.
Finally, stay hydrated. Drinking enough water throughout the day is essential for your health. Try to keep a water bottle with you throughout the day and sip on it regularly.
With today's busy lifestyle, it can be difficult to maintain a healthy diet. However, it is possible to make small changes to your daily routine that can have a positive impact on your health. Eating a balanced diet that includes plenty of fruits, vegetables, and lean proteins, cutting back on processed and sugary foods, and drinking plenty of water can help you maintain a healthy diet. Additionally, planning meals ahead of time and prepping snacks can help you stay on track. With a few simple changes, you can make sure that you are taking care of your body and your health. By following these tips, you can maintain a healthy lifestyle, even in today's busy world.
Indian Veg Breakfast Ideas
Everyday morning the first thing comes in the mind is that, what to cook for breakfast? Get gluten free, grain free, dairy free, vegan diet ideas. If you don't want to make healthy breakfast and don't want to spend lots of time in the morning. Then here are few ideas that will definitely help you to do some preparation in previous night and get quick breakfast in the morning. India is a country with a variety of delicious breakfast options. From savory snacks to sweet treats, there is something for everyone. Whether you are looking for a quick and easy meal to start your day, or something more hearty and filling, here are some of the best Indian veg breakfast ideas. From traditional South Indian dosas to the more creative and modern dishes, these recipes are sure to tantalize your taste buds and provide a nutritious start to your day. So, get ready to enjoy a delicious veg breakfast and kick-start your day with a healthy dose of energy.
Tasty and Quick Snacks
Quick tea time snacks is big hassle. When it comes to snacking, it can be hard to find something that is both tasty and quick to make. But with a few simple tips, you can make sure to have a delicious snack on hand whenever the craving strikes. First, try to keep your kitchen stocked with healthy snacks like fruit, nuts, and granola bars. This way, you will always have something nutritious and ready to snack on. Additionally, you can also keep a few easy ingredients on hand that can be used to make quick and tasty snacks. Items like peanut butter, hummus, and even cheese can make for a quick and satisfying snack. Finally, try to plan ahead and make a few snacks ahead of time that you can easily grab when you need something to tide you over. With these tips, you can enjoy delicious and healthy snacks no matter how busy you are. Super simple recipes, which even beginners try making. Eating the same menu again and again, not any more. Recipes mentioned on our website needs less time to cook, consists of different verities and also serves the purpose of balanced diet.