Homemade mango pickle recipe guide | Topics Replated To Green Mango Pickle Recipe
Green Mango Sweet Pickle Recipe with Homemade Masala.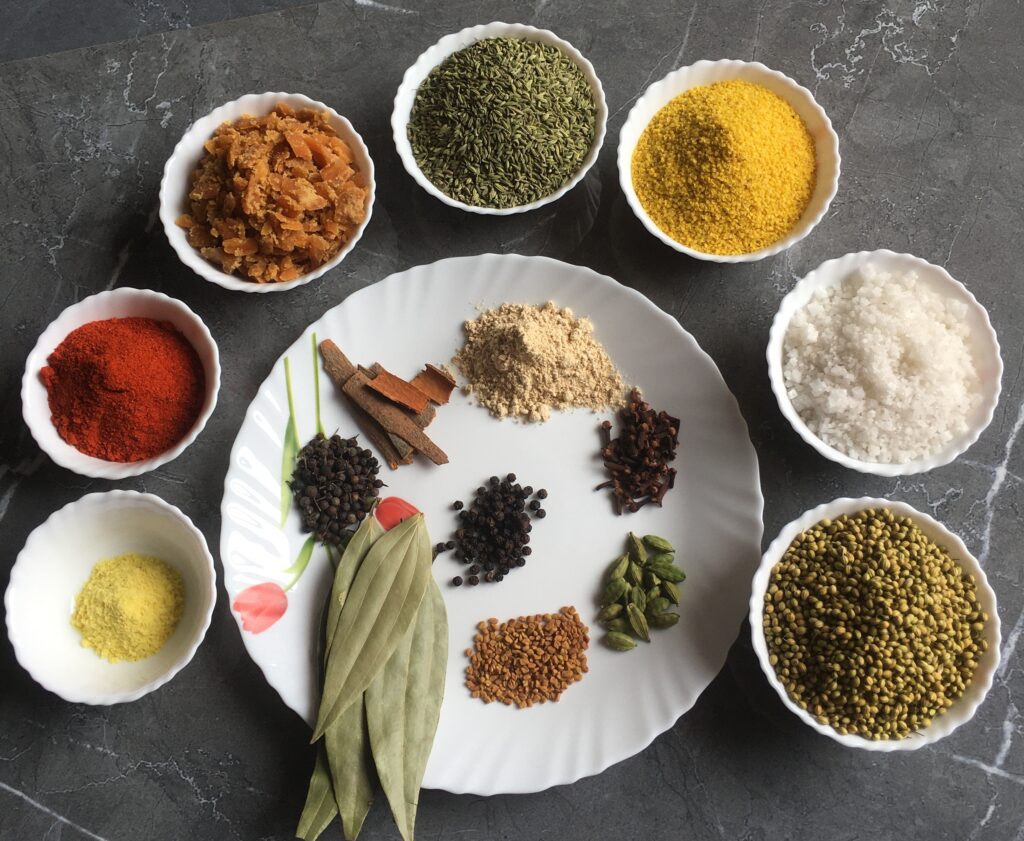 Ingredients
Step by step raw mango pickle recipe guide
1. How to Select Best Quality Green Mangoes?
Select correct variety raw mangoes. Choose the karies which are explicitly raw, green and firm. Hand pick one kairy check for color and firmness. Though it is time consuming, it is essential. It is worth doing it as you are going to do it only once a year. Avoid taking raw mangoes which are loose or has any kind of cuts on it. Also check for which variety of kairy to choose?. Now a days many varieties are available in the market. If you prefer sour pickle then go for organic variety. It is easy to identify organic version, just check for size and color. Specifically, smaller size kairy is sour in taste. Kesar and totapuri karies are not much sour in taste. So these kind of kairies are preferred for making methamba and gulamba.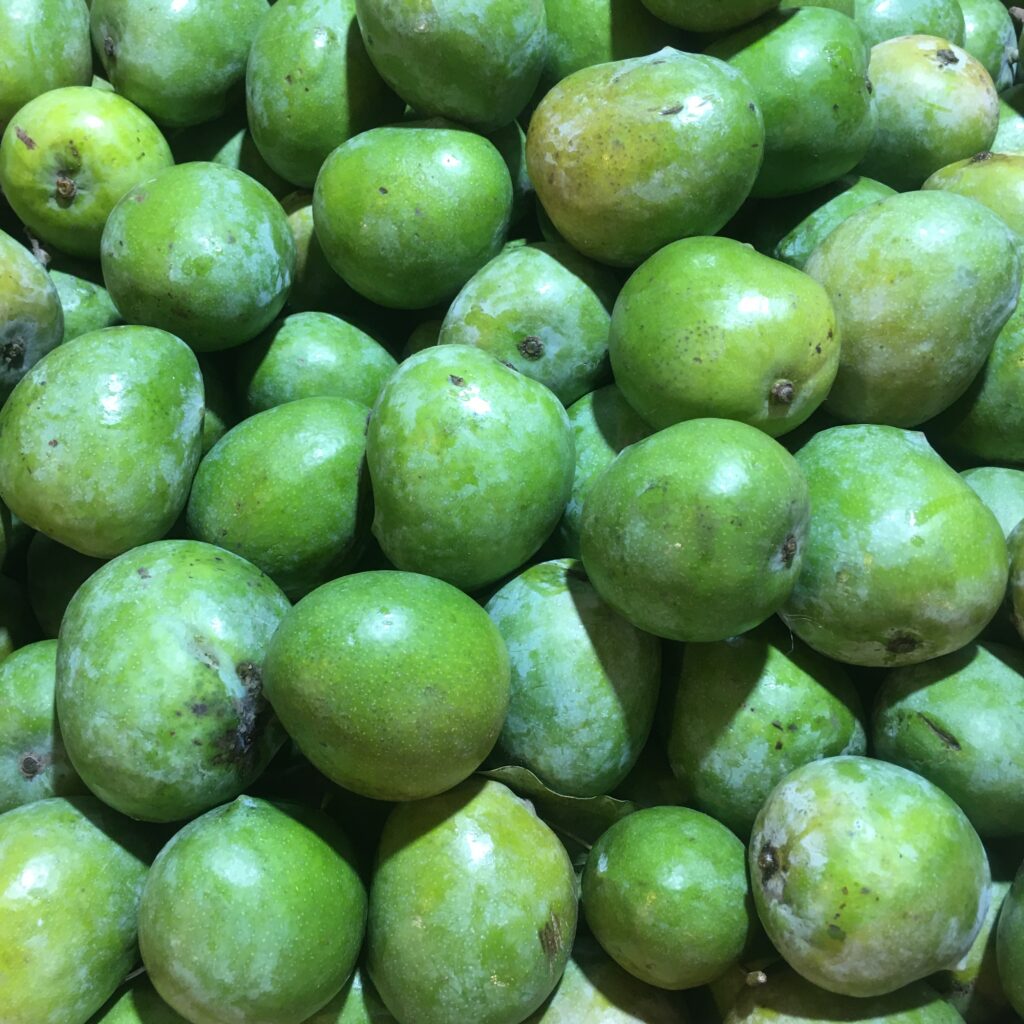 2. Wash Karies Properly
Wash all karies properly with lots of water so as to remove all dirt and sticky sap from the outside skin. Do not use any chemical since washing with lots of cold water is enough. If the sap is hard to remove then just soak karies in water for few hours. Finally, pat dry with clean towel.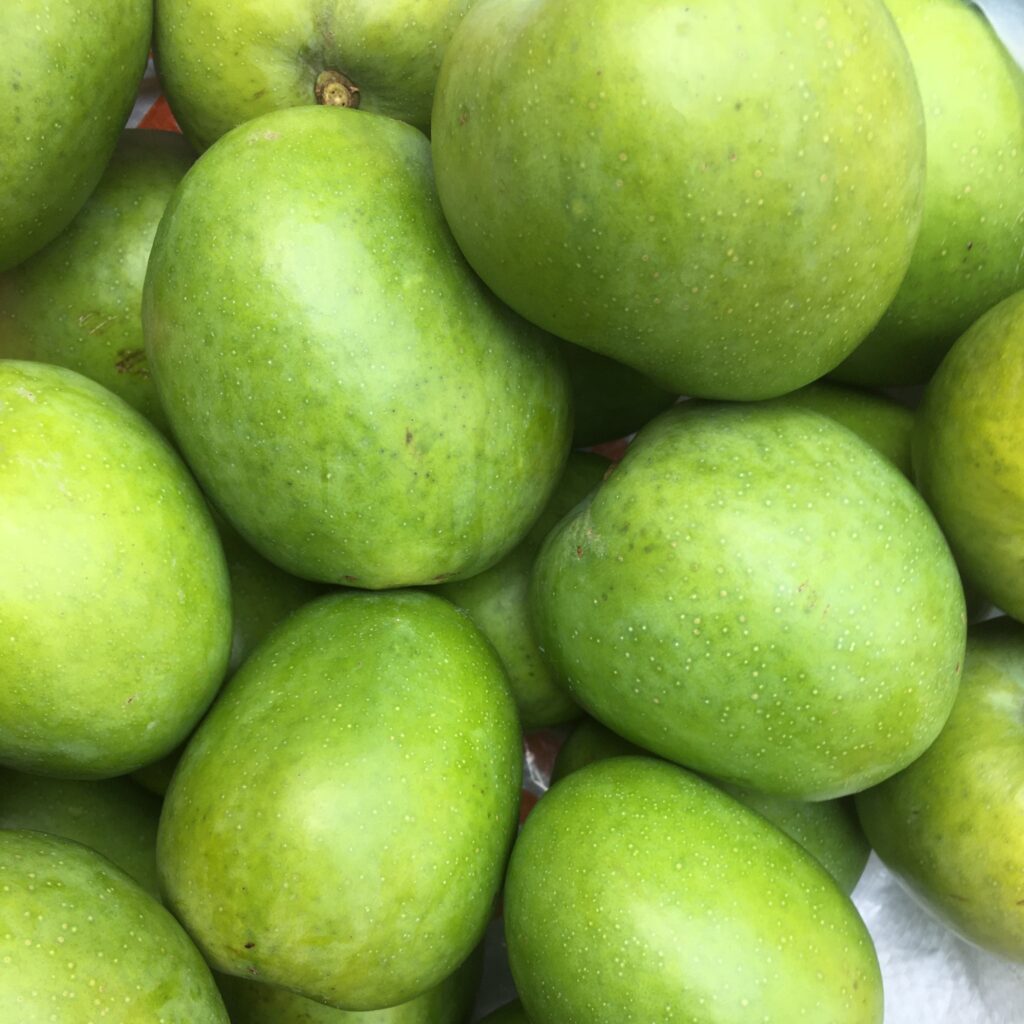 3. Cut Raw Mangoes into Pieces.
Firstly cut karies into small pieces. But this is not a easy job. It is hard to do it at home with normal knife. You need a special cutter to cut raw mangoes because seed inside the kairy is too hard to cut. You can also do it at home with axe or iron cutter. Usually when you are buying karies from local market, vendor itself has big cutter and helps to cut raw mangoes. When he is cutting karies, make sure that he will make very small pieces because big pieces are hard to handle.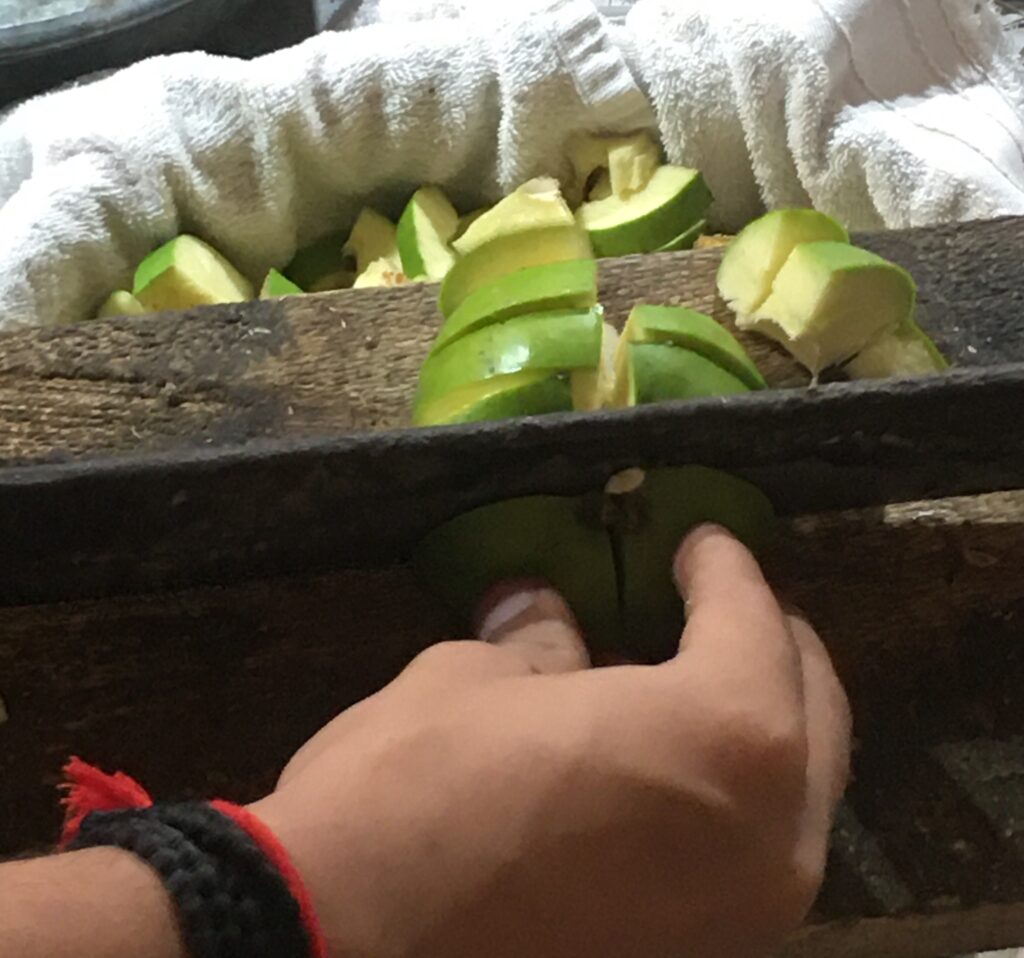 4. Spread the Pieces
Spread the pieces on clean cotton sheet. Also take out seed particles, if any. If you find any dirt on pieces then simply wipe it with clean towel. Avoid washing raw mango pieces because wet pieces can spoil the pickle. Let these raw mango pieces stay in shadow till dry a bit.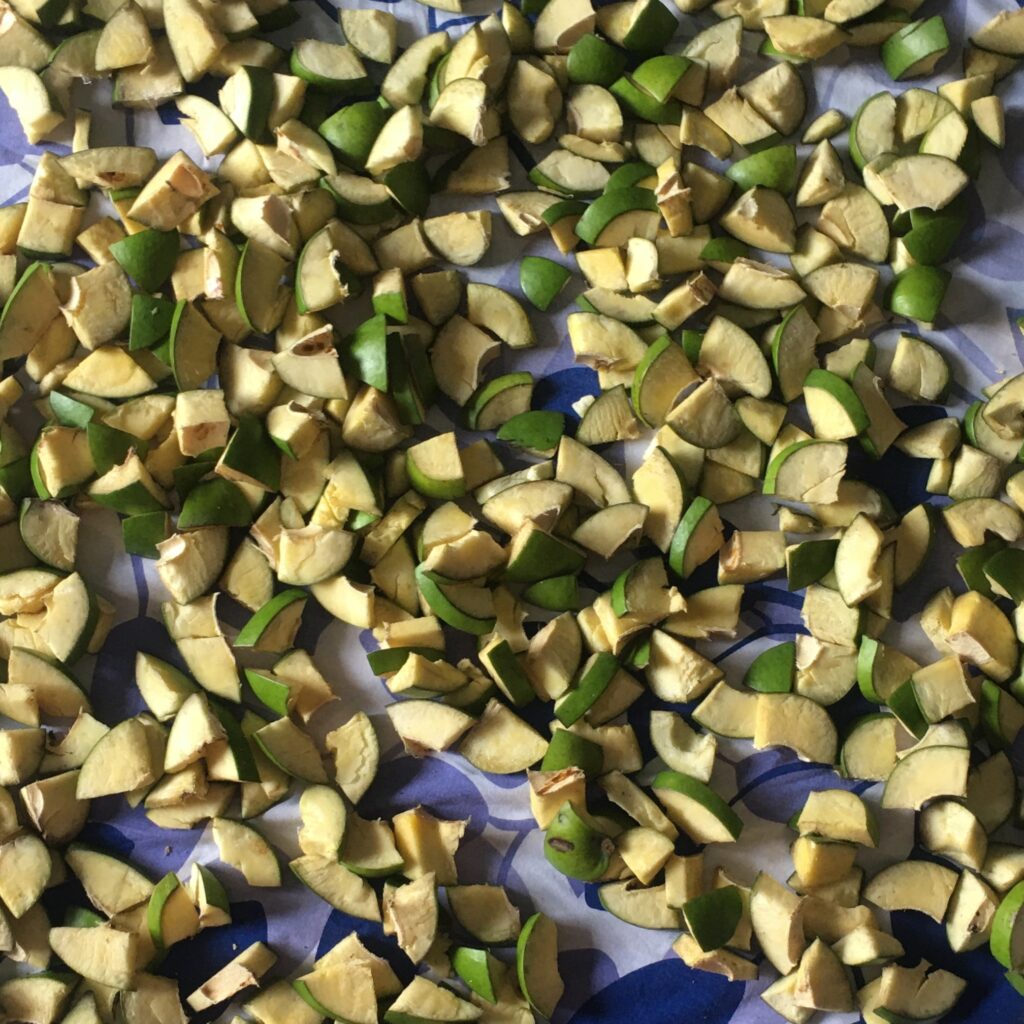 5. Add Salt and Turmeric
Add salt, turmeric and 1/4 kg salt. If you want more salty, then you may add more salt or even reduce the salt quantity as per your choice. 1/2 kg salt is enough for normal salty flavor. I used crystal salt here because this salt does not contain any chemical and additive. Also use adequate amount of turmeric, which will coat all pieces. Mix salt, turmeric and raw mango pieces properly. Keep this mixture over night or for 12 hours. Try to use stainless steel, clay pot, earthen pot, glassware or chini mitti pots while preparing pickle. Avoid using aluminum and iron pots, while preparing pickle as sour ingredients could react with it.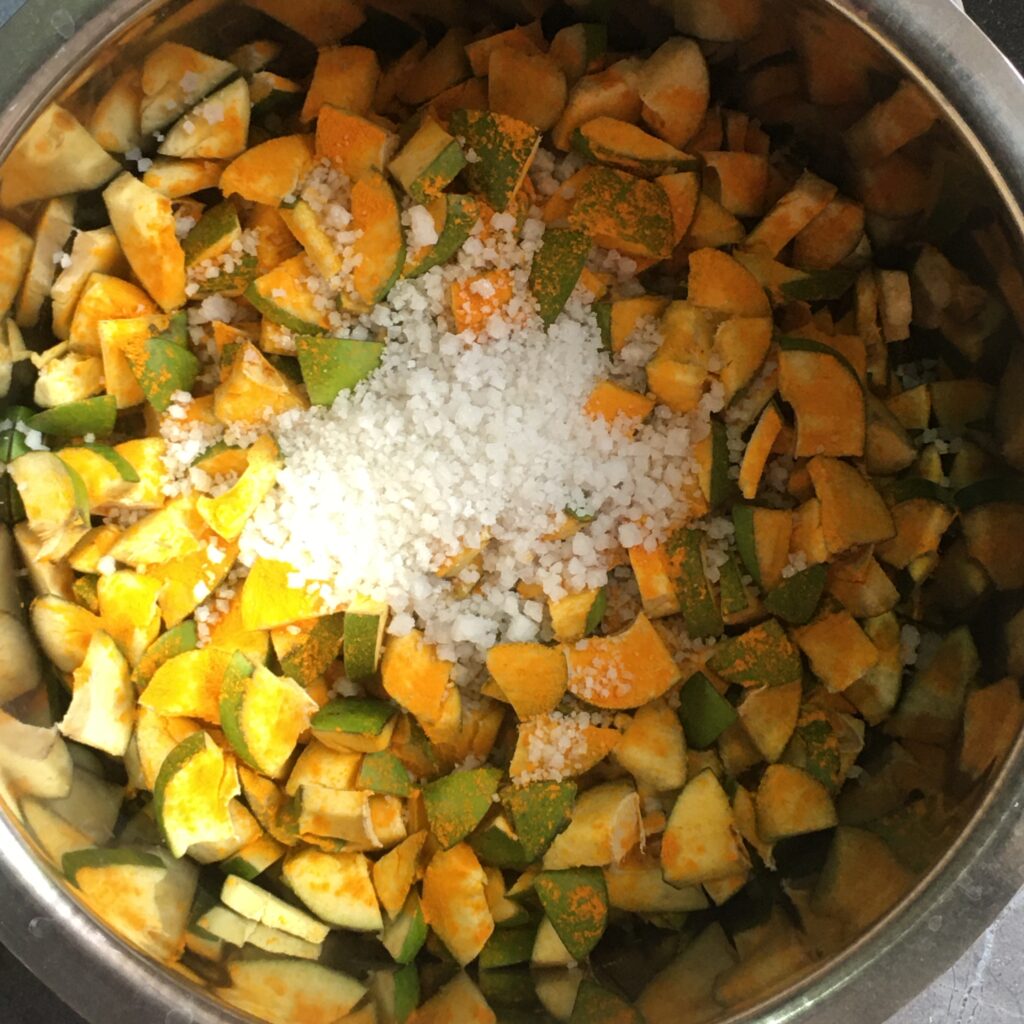 6. Homemade Pickle Masala Powder
While salt, turmeric and mango pieces mixture is setting, we can prepare pickle masala. Measure all spices mentioned in the above ingredient list. Add Coriander seeds, fennel seeds, cinnamon sticks, dalchini, cardamom pods, cloves, kapoor chini, black pepper seeds, bay leaves in mixer grinder. Make coarse powder. Take out this powder is bowl. Add dry ginger powder, red chili powder, split mustard seeds and asafoetida powder in it. Dry powder for authentic pickle masala is ready.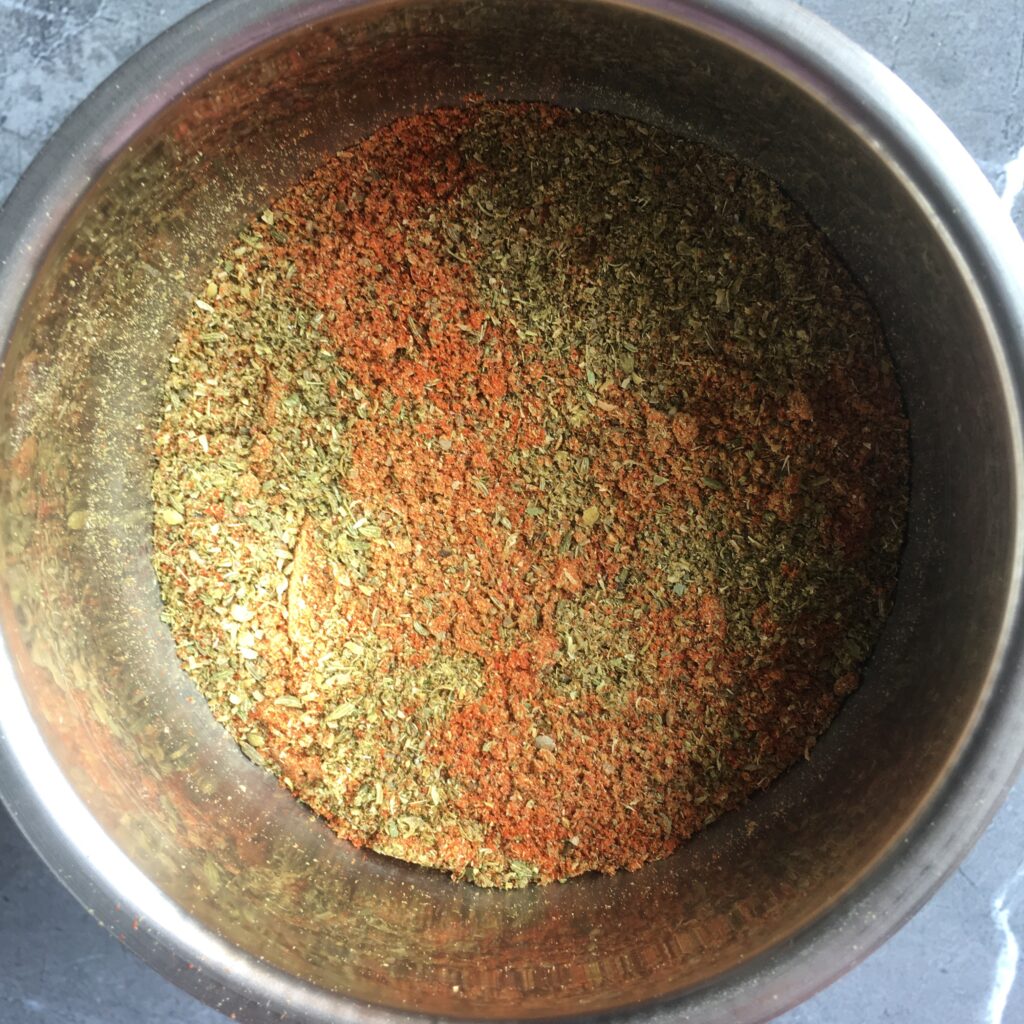 7. Mix Dry Masala Powder with Oil
In thick bottom pot, heat 2 kg. oil. You may use any oil, I used cold pressed sunflower oil. Heat the oil till its very hot, start leaving cooking smell. Do not over heat because it could burn. Remove from heat, and wait for 10 minutes, so that it will be cool a bit. Add fenugreek seeds in it, wait until seeds turn little brown. Wait again for 5 minutes. Add grinded masala made previously in step 6 to this oil. Before adding masala make sure oil is not very hot, as it could burn masala ingredients. It should not be very cold as these ingredients should get fried nicely. Finally, stir well and keep it aside to cool down.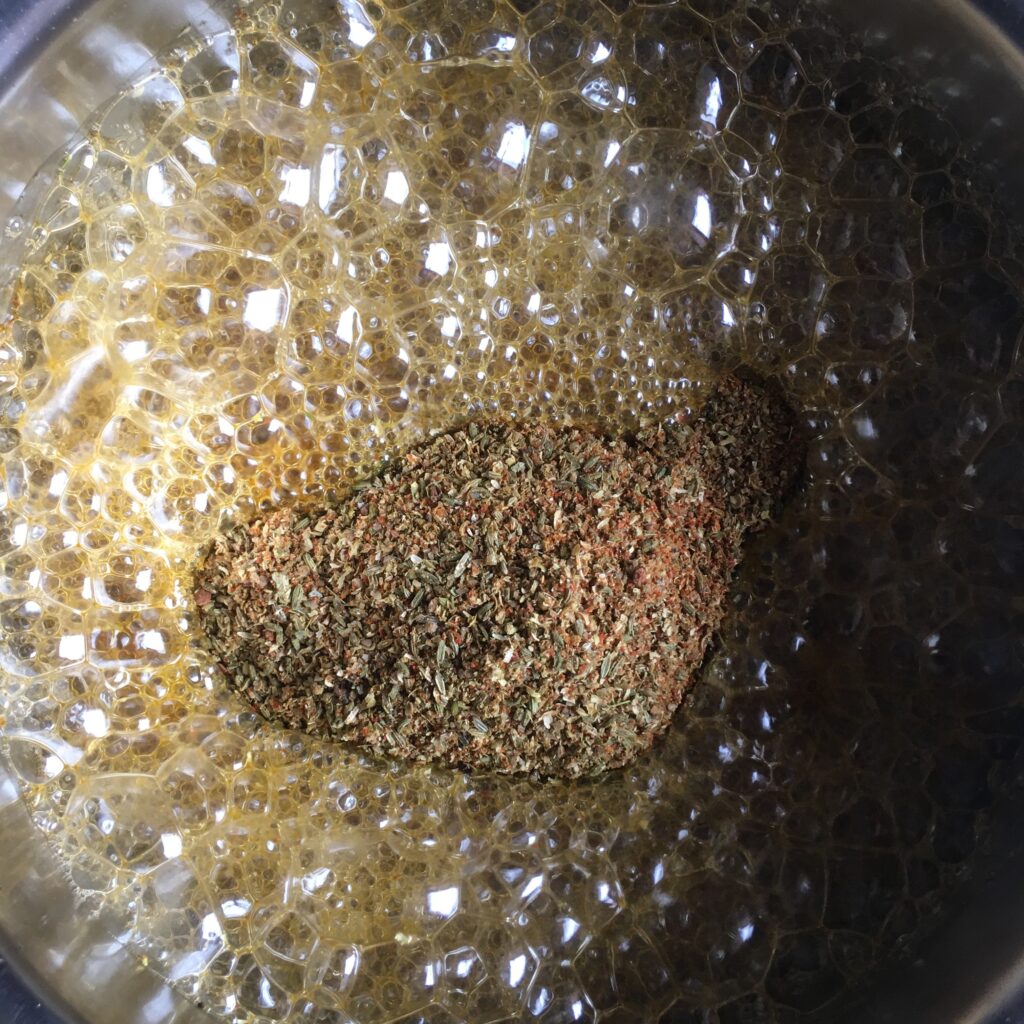 It may take 4-5 hours for this mixture to completely cool down.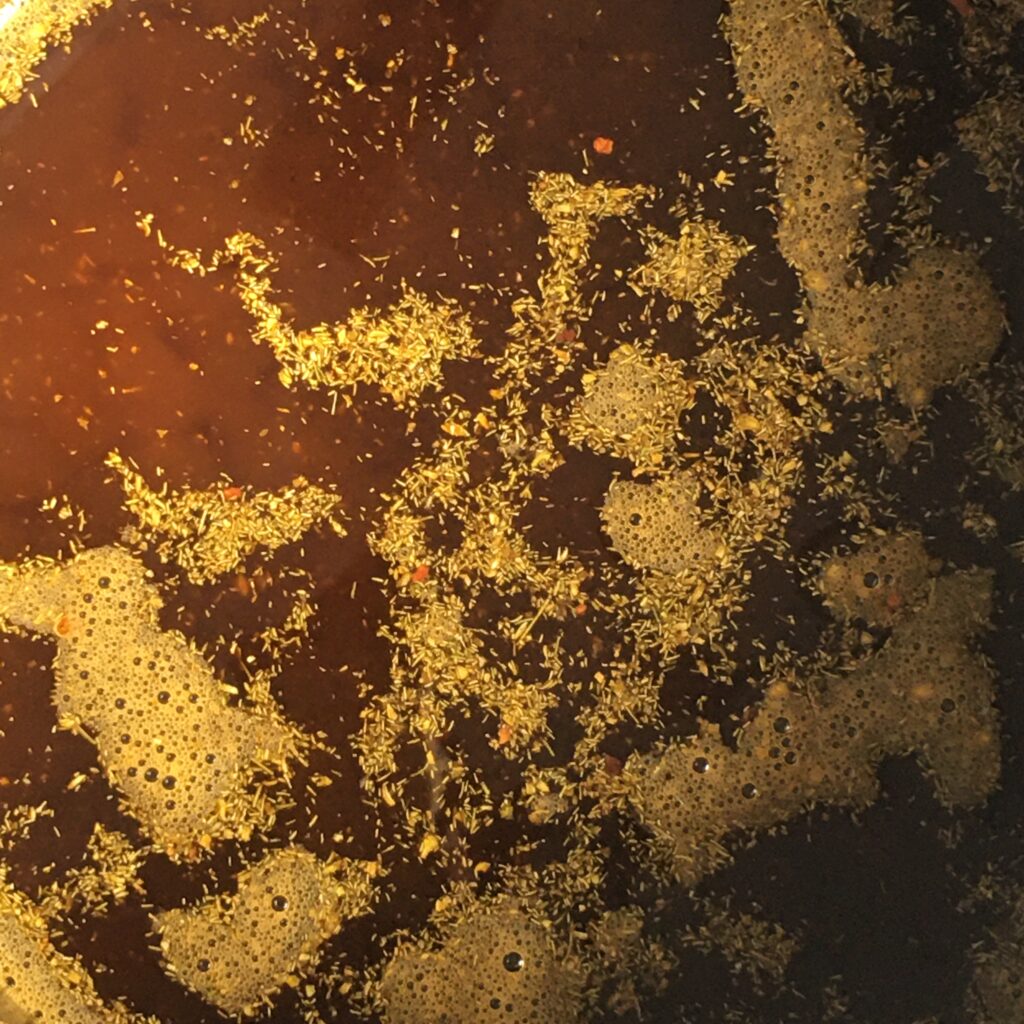 8. After 12 Hours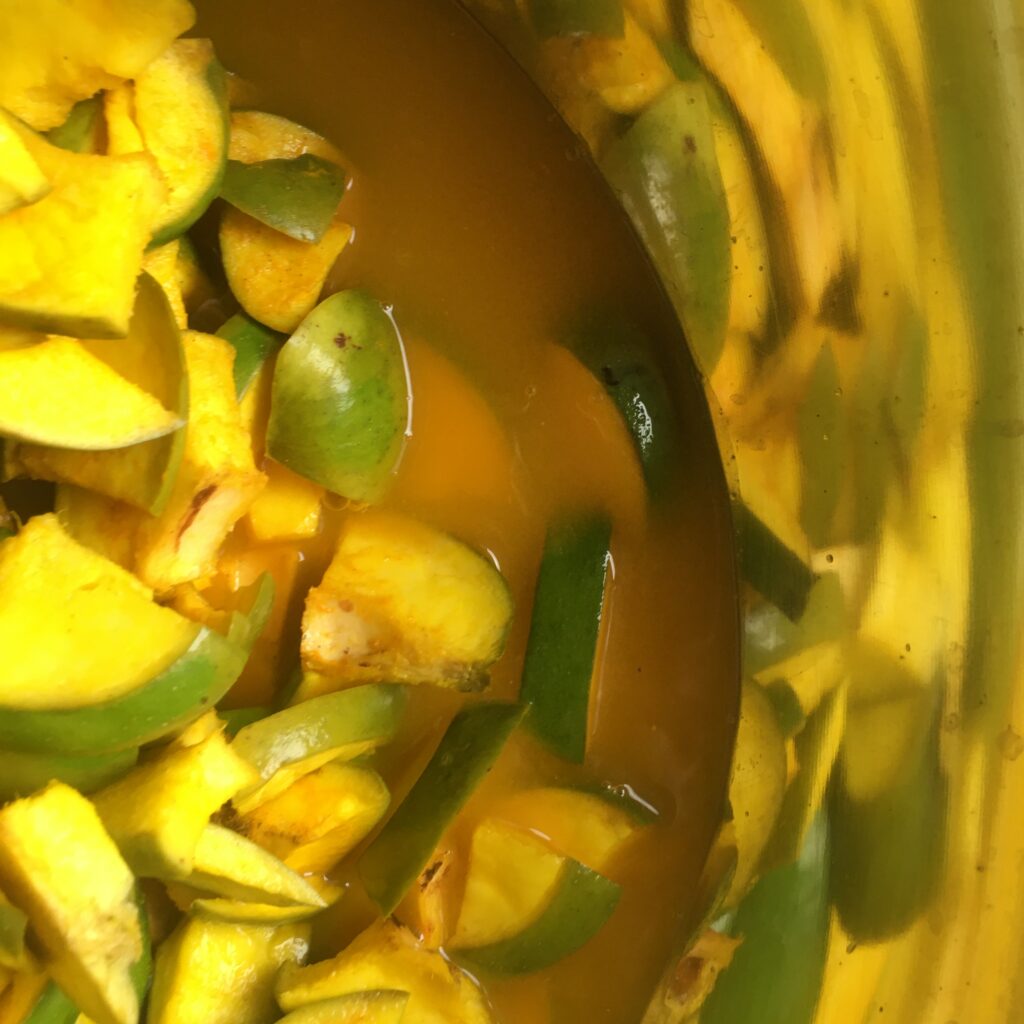 Next day morning or after 12 hours, you will some water at the bottom of the pot. Now what to do with this water? Some recipes suggest to discard this water. But some recipes suggest to keep this juice as it is. This juice is highly acidic nature, sour in taste and act as preservative for pickle. This is totally up to you if you want to use it or not. I an going to keep this water as it is, as I prefer sour pickle.
9. Add Jaggery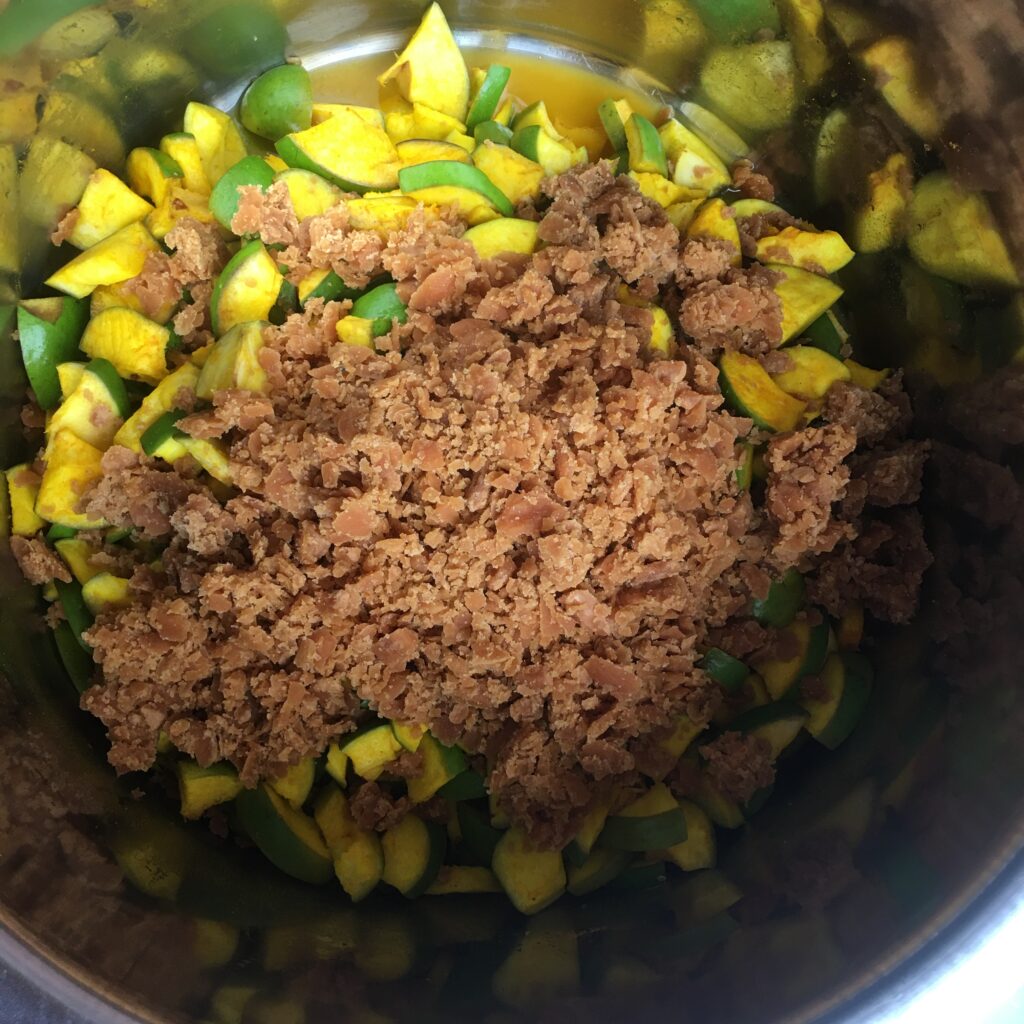 Crush jaggery into small pieces. You may also grate with grater or knife. Add jaggery over mango pieces. Here, I used 2 and 1/2 kg jaggery. If you want more sweeter version then add 3 kg jaggery. If you want less sweet then you may reduce jaggery quantity. 1 kg. jaggery will yield into milder sweet pickle. You can skip adding jaggery if you want sour and spicy mango pickle. After adding jaggery, let the mixture settle for more 2-3 hours, to get jaggery melt completely. Mix well and stir in between. Do not rush to add other ingredients, as oil could slow down jaggery melting procedure. Once jaggery is completely melted, mixture will look something like this.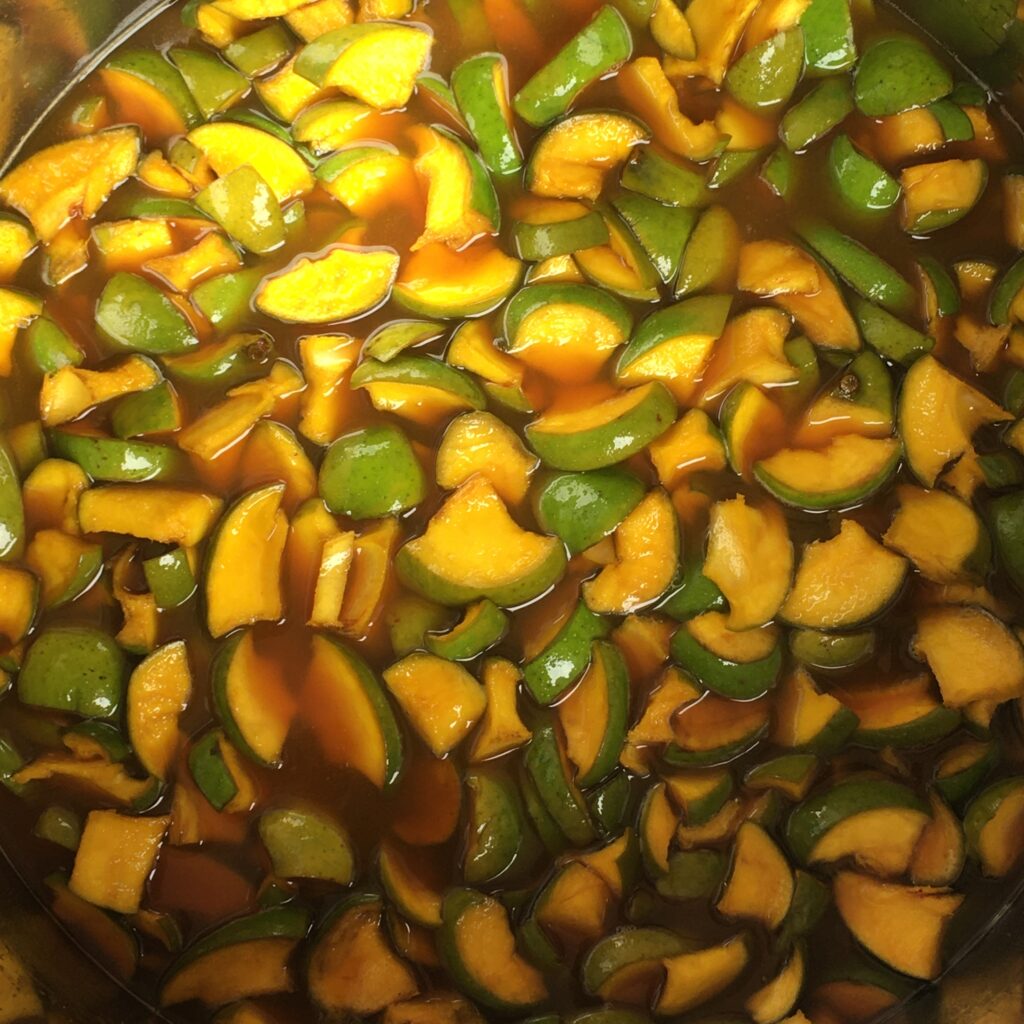 10. Homemade Masala + Kairy Pieces = Sweet Green Mango Pickle
Pour oil masala mixture on raw mango pieces.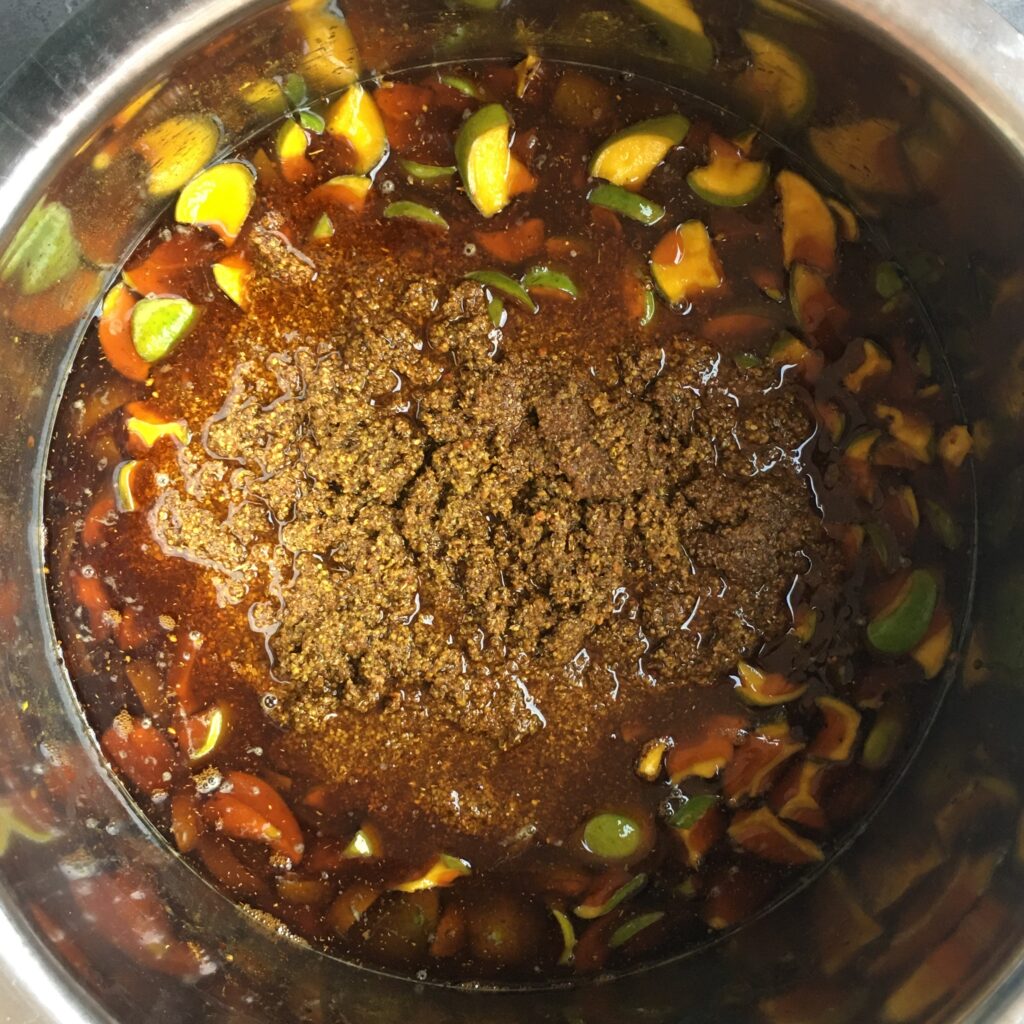 Finally, mix well and fill into air tight glassware. And tasty raw mango pickle / achaar will be ready after 15 days.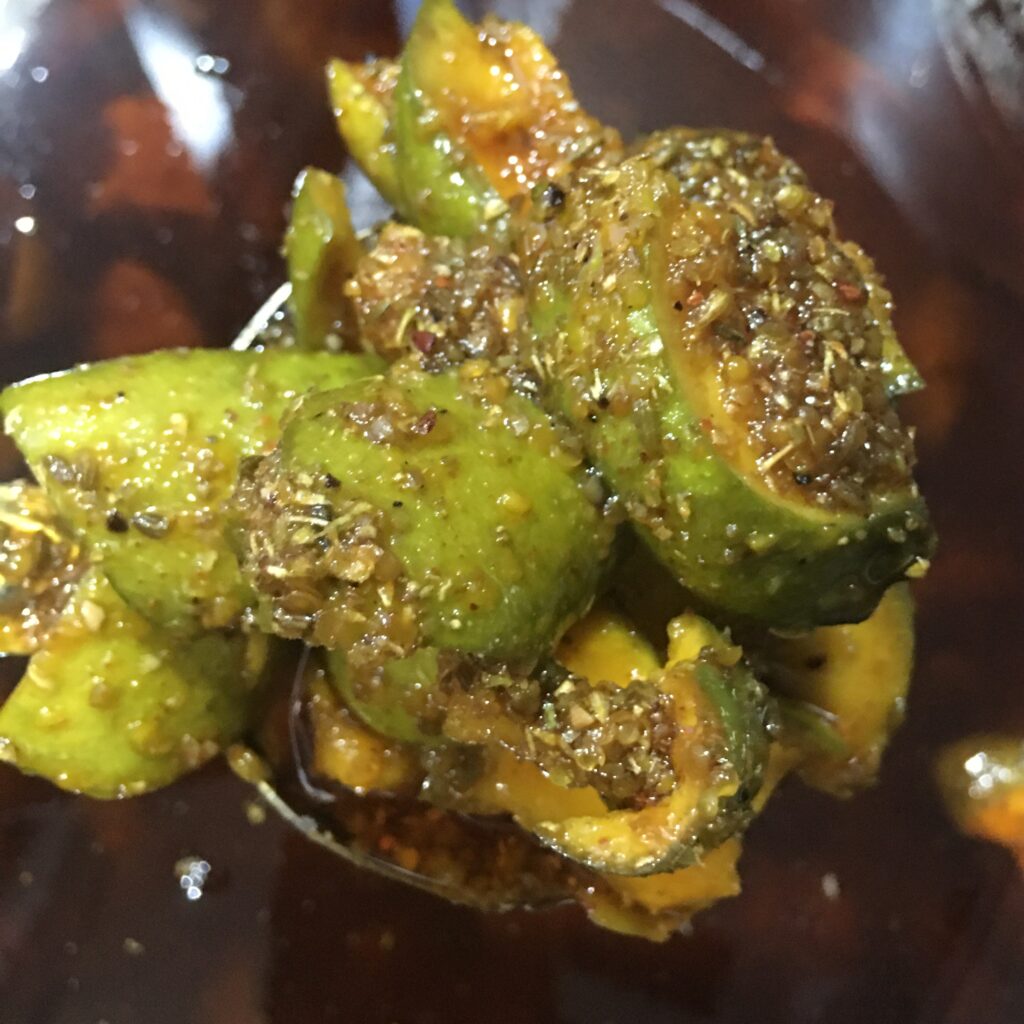 Topics Replated To Green Mango Pickle Recipe