Coriander seeds are a staple of many cuisines around the world, and have been used in cooking for centuries. From Indian curries and Mexican salsas to French ratatouille, coriander is an essential ingredient. But what exactly are coriander seeds, and what do they bring to the kitchen? In this post, we'll explore the history and uses of coriander seeds and look at how you can use them to add flavor and complexity to your cooking. We'll also discuss the health benefits of coriander seeds, from their anti-inflammatory properties to their potential to reduce cholesterol levels. So, read on to learn more about this versatile spice!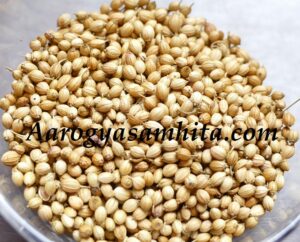 Coriander Seeds Nutrition Facts and Calories Chart
Cilantro seeds are packed with essential nutrients that can help protect your health. They are a good source of dietary fiber, iron, magnesium, and manganese. They are also a good source of vitamins A, C, E, and K, as well as folate, niacin, and thiamin. The seeds contain omega-3 fatty acids, linoleic acid, and oleic acid, which are important for heart health. Studies have also shown that coriander seeds can help lower cholesterol, reduce inflammation, and even protect against certain cancers. Additionally, coriander seeds can add flavor to dishes, making them a great addition to any meal. Nutritional value per 100 g coriander seeds:
Biotin: 0 µg
Calcium: 748 mg
Carbohydrates (Carbs): 48.2 g
Chloride: 32 mg
Cholesterol: 0 mg
Choline: 0 mg
Chromium: 0 µg
Copper: 1.8 mg
Dietary Fiber: 23.2 g
Energy (Calories): 467 kcal
Fat: 22.3 g
Iodine: 0 µg
Iron: 19.3 mg
Magnesium: 360 mg
Manganese: 5.6 mg
Molybdenum: 0 µg
Pantothenic Acid: 0.2 mg
Phosphorus: 590 mg
Potassium: 1420 mg
Protein: 19.1g
Saturated fat: 4.2 g
Selenium: 6.4 µg
Sodium: 39 mg
Sugars: 2.3 g
Vitamin A: 0 IU
Vitamin B1 (Thiamin): 0.4 mg
Vitamin B2 (Riboflavin): 0.2 mg
Vitamin B3 (Niacin): 2.1 mg
Vitamin B5 (Pantothenic Acid): 0.2 mg
Vitamin B6: 0.7 mg
Vitamin B9 (Folate / Folic Acid): 276 µg
Vitamin B12: 0 µg
Vitamin C: 0 mg
Vitamin D: 0 IU
Vitamin E: 4.3 mg
Vitamin K: 206.7 µg
Water: 6.81 g
Zinc: 5.6 mg
Coriander Seeds In India
Cilantro seeds alleviates urinary infections, cystitis, rashes, hives, burns, digestive disorders, such as gas pains, vomiting, and indigestion. Coriander is beneficial for respiratory problems it eases allergies and hay fever. Its antifungal, antibacterial properties were noted by the Romans, who used coriander to preserve meats. There is a separate post dedicated to health benefits of coriander leaves.
Scientific Binomial: Coriandrum sativum
Common English: Coriander Seeds
Ayurvedic: Dhaanyaka / Kustumburu / Dhaanyeyaka / Dhanika / Dhanikaa / Dhaanaa / Dhaanya / Dhaniyaa / Kunati / Chhatraa / Vitunnaka
Unani: Kishneez
Sanskrit: Kustumbari / Kustumburu / Dhanyaka
Hindi / Urdu: Dhaniya Beej / Dhania Saabu
Bengali: Dhonay / Dhoaney
Marathi: Dhane / Dhana
Telugu: Dhaniyalu / Dhania
Tamil: Vara Kothamali / Kothamalli
Gujarati
Kannada: Dhaniya kallu / Kothambri
Malayalam: Kothumpalari bija / Malli
Oriya
Punjabi / Sindhi
Assamese
Kashmiri
Konkani
Manipuri
Dogri
Bhojpuri
Home Remedies
Calming effect of coriander seed oil is beneficial to treat arthritis, menopause, ulcers, and depression.
High Blood Cholesterol: To lower blood cholesterol coriander seeds water is very useful. Bring approximately 1 litre of water to boil and add few seeds of coriander. Boil for few more minutes and let it cool. Strain the water. Regular drinking of such water is helpful for blood cholesterol.
Conjunctivitis: For conjunctivitis, make an eyewash by steeping 1 teaspoon of coriander seeds in 1 cup boiling water for at least 15 minutes. Strain thoroughly, and cool before using the water on closed eyes.
Sore Eyes: Ayurvedic treatment for sore eyes, is to steep 1 teaspoon of coriander seeds in 1 cup of boiling water for at least 15 minutes. Strain thoroughly, cool, and use the water to bathe your closed eyes. Wipe away the excess before you open your eyes.
Excessive Menstruation: For excessive menstruation, take six grams of dhania seeds and add it to half a liter boiling water. It should be taken off the fire when only half the water remains. Add sugar candy and drink it when it is still warm.
Cataracts: To treat cataract, equal weights of aniseed and coriander seed powder and mixed with brown sugar is also beneficial in the treatment of this disease and the mixture should be taken in doses of 12 grams in the morning and evening.
Skin Care: For rashes, hives, and other high-pitta conditions such as nausea, steep 1 teaspoon coriander, 1/2 teaspoon cumin, and 1 teaspoon natural sugar in 1 cup hot milk. Drink once or twice a day.
Digestive Aid: If you have already eaten too much, then here is a homemade aid for indigestion. Dry roast 1 teaspoon coriander seeds and 1 teaspoon fennel seeds on a heavy iron pan. Add a pinch of salt, let the mixture cool, and eat it. It will help with indigestion.
High Blood Pressure: For hypertension, add 1 teaspoon coriander and 1 pinch cardamom to 1 cup freshly squeezed peach juice. Drink this as many as 2 or 3 times a day to help with high blood pressure OR Eat some watermelon with a pinch of cardamom and a pinch of coriander added. This will act as a mild diuretic and will help to regulate blood pressure.
Herbal Tea: Coriander is best option for those who want to replace black tea or coffee with herbal tea during fall and spring season. Take cumin, coriander and fennel seeds, all in equal quantities, to prepare this tea. Mix all seeds seeds and take 1 1/2 teaspoon of this mixture and add into a cup of hot water. Steep for 10 minutes, strain, and drink. Use this tea 3 times a day.

According to Ayurveda, burning sensation while urinating due to cystitis or prostate problems can also be treated by drinking this tea.
Drinking this tea after each meal is good digestive aid.
This is also helpful to relieve a pitta-type headache, swelling (edema) during pregnancy, to treat kidney problems and also a home remedy to treat acne.
Drinking this tea is effective for bed wetting resulted due to nightmares. Child doesn't drink tea just before bedtime but 2 hours before going to bed.

Fever: For fever, try excellent herbal tea made with coriander seeds, cinnamon powder and ginger. Mix the ingredients in 2:2:1 parts and take 1 teaspoon of this mixture. Add it to a cup of hot water and steep for 10 minutes. You can drink this every few hours until the fever breaks.
Side Effects and Precautions
In high doses, coriander may cause kidney irritation. There have been rare reports of allergic reactions to coriander. During pregnancy, use only under recommendation from your physician.