Coriander Leaves are an important ingredient in many dishes from all around the world. They are used for adding flavor and aroma to a variety of dishes, from soups and stews to salads and curries. With their unique flavor and aroma, it's no wonder that coriander leaves are so popular. In this post, we'll explore the various uses of coriander leaves, from their nutritional value to their culinary applications. We'll also discuss some of the health benefits that can be derived from consuming coriander leaves. Finally, we'll provide some tips and tricks for making the most out of coriander leaves when cooking. So, let's get started!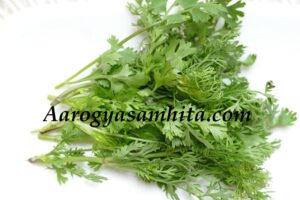 Coriander Leaves Nutrition Facts and Calories Chart
They are a good source of many vitamins and minerals. Coriander leaves are particularly rich in vitamins A, C, and K, as well as dietary fiber, calcium, and iron. They are also a good source of magnesium, phosphorus, potassium, and manganese. Coriander leaves are also a good source of antioxidants, which can help protect against oxidative stress and disease. Nutritional value per 100 g coriander leaves:
Biotin: 0 µg
Calcium: 68 mg
Carbohydrates (Carbs): 5.8 g
Chloride: 5 mg
Cholesterol: 0 mg
Choline: 10.2 mg
Chromium: 0.5 µg
Copper: 0.2 mg
Dietary Fiber: 2.8 g
Energy (Calories): 23 kcal
Fat: 0.5 g
Iodine: 0 µg
Iron: 2.6 mg
Magnesium: 22 mg
Manganese: 0.3 mg
Molybdenum: 0.4 µg
Pantothenic Acid: 0.2 mg
Phosphorus: 52 mg
Potassium: 460 mg
Protein: 2.1 g
Saturated fat: 0.1 g
Selenium: 0.2 µg
Sodium: 32 mg
Sugars: 0.9 g
Vitamin A: 2800 IU
Vitamin B1 (Thiamin): 0.1 mg
Vitamin B2 (Riboflavin): 0.1 mg
Vitamin B3 (Niacin): 0.7 mg
Vitamin B5 (Pantothenic Acid): 0.2 mg
Vitamin B6: 0.2 mg
Vitamin B9 (Folate / Folic Acid): 68 µg
Vitamin B12: 0 µg
Vitamin C: 7.6 mg
Vitamin D: 0 IU
Vitamin E: 0.6 mg
Vitamin K: 228.4 µg
Water: 89.3 g
Zinc: 0.4 mg
Cilantro vs Coriander Leaves
Cilantro and coriander leaves are the same plant, but they have different names depending on the region. In the United States, the leaves are typically referred to as cilantro, while in the United Kingdom and other parts of Europe, they are referred to as coriander leaves. Both have a similar flavor, but cilantro has a stronger, more pungent taste. Coriander leaves are more subtle, with a hint of citrus. Both are commonly used in salads, salsas, and other dishes.
Coriander Leaves in India
A fresh coriander leaves also known as, "cilantro". Coriander is a bitter, pungent herb, with a sweet, pleasant taste. Its energy is cooling and moisturizing. It has strong stimulant and alterative properties. Coriander acts as a diuretic and diaphoretic. Coriander stimulates the plasma, blood, and muscles. It is thought to be an aphrodisiac because of its phyto-estrogen content. Adding chopped cilantro leaves on variety of recipes will cleanse the system and help to strengthen memory.
Scientific Binomial: Coriandrum sativum
Common English: Coriander Leaves
Ayurvedic: Dhaanyaka / Kustumburu / Dhaanyeyaka / Dhanika / Dhanikaa / Dhaanaa / Dhaanya / Dhaniyaa / Kunati / Chhatraa / Vitunnaka
Unani: Kishneez
Sanskrit
Hindi / Urdu: Dhaniya Patti
Bengali: Dhane Pata
Marathi: Kothimbir
Telugu: Kothimeera
Tamil: Kotthamalli / Kotthu Malli
Gujarati
Kannada: Kothambari Soppu
Malayalam: Malli ila
Oriya
Punjabi / Sindhi
Assamese
Kashmiri
Konkani
Manipuri
Dogri
Bhojpuri
Home Remedies
If you choose to add cilantro to your diet for Ayurvedic healing, make sure that you are not combining it with heat producing foods. Making a refreshing drink infused with the cucumber and cilantro is one way to help balance "Pitta Dosha" without putting additional stress on the digestive system.
Conjunctivitis: Practitioners of Ayurveda, the traditional medicine of India, treat conjunctivitis with the pulp of fresh cilantro leaves. To treat conjunctivitis, apply the pulp of fresh cilantro leaves on closed eyelids. Blend a handful of cilantro leaves with 1/4 to 1/3 cup water; strain out the juice, and apply the pulp to your closed eyelids. Drinking the liquid will also be beneficial.
Unpleasant Odors: In the southeastern mainland China city of Canton, coriander leaves and seeds are used to help remove unpleasant odors occurring in the genital areas and also to get rid of halitosis or bad breath. Bring 2 quarts of water to a rolling boil. Reduce heat and add 3 and 1/2 tbsp. of seed. Simmer for 1 and 1/2 hours until the amount has been reduced to slightly less than a quart of liquid. At this point, add 2 tsp. fresh, finely grated orange peel and one pitted, finely chopped date. Simmer for an additional 15 minutes, at which time remove from heat entirely. Add 1 tsp. each of dried coriander leaf and finely chopped fresh parsley, with a drop or two of peppermint oil. Steep mixture for about half an hour, stirring occasionally. Strain and store in a pint fruit jar with a good lid to seal it. Store in refrigerator until needed. When using for genital problems, warm up whatever is needed and rub all around genital area. Let the air dry it. Or gargle and rinse mouth with 1/2 cup of it while cool, but not heated. Also very good to hold in the mouth or soak cotton with and insert to relieve toothache.
Pimples and Blackheads: A teaspoonful of cilantro leaves juice, mixed with a pinch of turmeric powder, is effective home remedy for pimples and blackheads. The mixture should be applied to the face after thoroughly washing it, every night before retiring.
Dysentery: In the treatment of dysentery, use of small pieces of onions mixed with curd and equal parts of the tender leaves of the peepal tree, cilantro leaves and sugar chewed slowly.
Hair Fall: Application of the juice of green coriander leaves on the head is also considered beneficial for prevention and treatment of the loss of the hair.
Skin Care: Fresh coriander leaves juice is useful for rashes, hives and dermatitis. It may be applied as a pulp to the skin to relieve burning sensation. It is also helps to purify the blood.
Piles: For relief of hemorrhoids, drink 1 cup carrot juice mixed with 2 teaspoons cilantro juice twice a day on an empty stomach.
Cooling Effect: For cooling effect on the mind and for inducing sleep, fresh juice of the leaves, mixed with sugar, is given. It is also given in biliousness, intestinal irritations, heartburn, thirst and nausea.
Fever: The simplest herbal remedy for fever is cilantro juice. Put a handful of cilantro leaves in a blender with about 1/3 cup water, and blend thoroughly. Strain out the pulp. Take 2 teaspoons of the remaining liquid 3 times a day to help lower the fever.
Stomach Problems: Coriander is excellent for stomach trouble, prostrate and any urinary ailments. Fresh cilantro tea give soothing effect when having trouble with stomach upset. Cilantro alleviates urinary infections, cystitis, rashes, hives, burns, digestive disorders, such as gas pains, vomiting, and indigestion.
Respiratory Issues: Coriander is beneficial for respiratory problems – it eases allergies and hay fever. Its anti-fungal, antibacterial properties were noted by the Romans, who used coriander to preserve meats.
Insect Bite or Stings: To treat stings or bite, as soon as possible after receiving a sting or bite, take some cilantro juice. Place a handful of cilantro in a blender with about 1/3 cup water, blend thoroughly, and strain it. Drink the juice (use 2 teaspoons 3 times a day), and apply the pulp locally to the skin at the affected area. It will instantaneously pacify the itching, burning, and hives or rash created by the sting or bite. This is useful for minor burns too. Put some of the pulp directly on the skin.
Edema: For the treatment of edema, if the swelling is due to allergy, take antihistamine in the form of fresh cilantro juice. Chop some fresh cilantro and place in the blender with 1/3 cup of water. Blend, strain, and drink immediately. Also apply the pulp locally to the swollen area.
Side Effects and Warnings
In high doses, coriander may cause kidney irritation. During pregnancy, use only under recommendation from your physician.