Chili peppers are a surprisingly nutritious and delicious addition to your diet. Not only are they packed with flavor, but they offer a range of health benefits that make them even more appealing. From helping with weight loss to reducing inflammation and boosting immunity, chili peppers are a great way to enjoy a meal while providing your body with some major nutrition benefits. In this post, we'll explore the numerous health benefits of chili peppers, so you can enjoy them in all their spicy glory!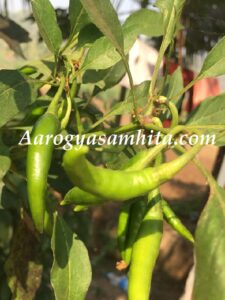 Chili Nutrition Facts and Calories Chart
Peppers are packed with nutrition, providing high levels of antioxidants, vitamins, and minerals. Chili is an excellent source of vitamins and minerals. It is rich in vitamins A, C, and E, as well as potassium, calcium, iron, zinc, and magnesium. It also contains fiber and protein, as well as small amounts of other nutrients. In addition, chili peppers are high in antioxidants, which can help protect against diseases and chronic conditions. Nutritional value per 100 g chilies:
Biotin: 0.006 micrograms
Calcium: 14 milligrams
Carbohydrates (Carbs): 5.8 grams
Chloride: 18 milligrams
Cholesterol: 0 milligrams
Choline: 2.6 milligrams
Chromium: 0.2 micrograms
Copper: 0.1 milligrams
Dietary Fiber: 1.5 grams
Energy (Calories): 31 kcal
Fat: 0.3 grams
Iodine: 0.1 micrograms
Iron: 0.6 milligrams
Magnesium: 13 milligrams
Manganese: 0.1 milligrams
Molybdenum: 0.3 micrograms
Pantothenic Acid: 0.1 milligrams
Phosphorus: 22 milligrams
Potassium: 259 milligrams
Protein: 1.9 grams
Saturated fat: 0.1 grams
Selenium: 0.4 micrograms
Sodium: 5 milligrams
Sugars: 2.3 grams
Vitamin A: 438 IU
Vitamin B1 (Thiamin): 0.1 milligrams
Vitamin B2 (Riboflavin): 0.1 milligrams
Vitamin B3 (Niacin): 0.6 milligrams
Vitamin B5 (Pantothenic Acid): 0.1 milligrams
Vitamin B6: 0.2 milligrams
Vitamin B9 (Folate / Folic Acid): 30 micrograms
Vitamin B12: 0 micrograms
Vitamin C: 34 milligrams
Vitamin D: 0 IU
Vitamin E: 0.6 milligrams
Vitamin K: 3.2 micrograms
Water: 88.7 grams
Zinc: 0.4 milligrams
Chili in India
Chilies are long and oval in shape. It is dark green in color and turns red on ripping. The pericarp of chili consist of parenchymatous cells which contains red oil. Small chilies are hot and pungent where as large capsicum are mild in taste. Cayenne is indigenous to warmer climates such as that in India. It produces a hot red chili pepper that is related to the bell pepper and is used to flavor spicy dishes and for a variety of medicinal purposes.
Scientific Binomial: Capsicum annuum / Capsicum frutescens
Common English: Bird Chili / Red Pepper
Ayurvedic: Raktamaricha / Lankaa / Katuviraa / Katuviraa
Unani: Filfil-e-Ahmar / Filfil-e-Surkh / Surkh Mirch
Sanskrit
Hindi / Urdu: Mirch
Bengali: Lanka
Marathi: Mirchi
Telugu
Tamil: Milagay / Musi Milagay / Mulaga
Gujarati
Kannada
Malayalam: Pacha Mulagu
Oriya
Punjabi / Sindhi
Assamese
Kashmiri
Konkani
Manipuri
Dogri
Bhojpuri
Home Remedies
As capsicum is mild in the taste, it works great as vegetable. Stuffed capsicum is one of the best recipe. Green chilies are used in the preparation of curries, pickles and they impart flavor. They are also used in vegetable salads to increase hunger. Green chilies are rich in rutin. A dry ripe fruit of the plant known as red peppers. Along with other spices, red pepper is the main ingredient of curry powder used in India. Curry powder is an indigenous seasoning made from various spices. Chili peppers are used for great tasting sauces, marinades and stews. Capsiacin or capsicutin is the main constituent of chili pericarp. It is secreted by outer walls of chili. When chilies are burnt, they emit an extremely irritable vapor which causes nasal and throat irritation. If taken into proper quantity, chilies are decongestant and digestive. They strengthen the blood clot dissolving system, open up sinuses and air passages, break up mucus in the lungs, and help prevent bronchitis and emphysema.
Hoarseness: A gargle made of red chili powder is prescribed by Indian physicians in hoarseness, sore throat and in putrid throat. To make gargle water add 10 g chili powder to 1 liter of boiling water. Chili shows powerful action on mucus membrane. Capsicum, made into lozenges with sugar and gum tragacanth, is given for hoarseness. Pills of capsicum, rhubarb and ginger – all in equal quantity – are prescribed by Indian physicians in hoarseness, sore throat and in putrid throat.
Sore Throat: For sore throat, a pinch of chili powder, added to 25 ml lemon juice and honey, diluted with hot water, is used as a gargle. 5-10 drops of tincture in half a tumbler of warm water is also used as a gargle in throat infections.
Hair Growth: Red chilies, as per folk remedy, are good to promote hair growth and to stop hair loss. Take 120 ml. of coconut oil. Bring it to boil and add 1 red chili in it. Boil for few minutes and let it cool. Regular use of this oil on hair increases hair growth and keeps them soft.
Aches and Pains: Capsaicin from chili acts like cantharidin to prevent hair loss. The same substance is useful to treat aches and pains. It relays pain sensations to central nervous system and hence block the perception of pain. Here is one recipe to make home made analgesic balm. This is very useful to treat rheumatic pains, sciatica and bursitis. To make this concentrated oil, take 30 ml castor oil and 4 dry red chilies. Roast these chilies in the taken castor oil and balm is ready. Be careful as regular application may cause blisters. In this case try, capsicum liniments, tinctures, plasters which are officially approved.
Repel Negativity: Apart from these medicinal uses cayenne pepper has some magical and spiritual effects. It is believed that, using a few sprinkles of dried cayenne in cleaning water will help purify home and repel negativity. Sprinkling it on altar will deepen spiritual connection. Adding Cayenne to other herbs will strengthen their impact.
Reduce Swelling: The whole plant, steeped in milk, is pounded and applied externally for reducing swellings and hard tumors.
Dog Bite: The paste of capsicum, as a single raw drug, is considered anti-poisonous and is applied to the dog bite as a first aid. Mixed with mustard oil, the drug is applied to skin diseases. In the form of ointment, is used externally in rheumatism, lumbago, neuralgia, varicose veins.
Depression: Half a teaspoonful of capsicum annuum is added to a cup of boiling water, then one tablespoonful of this infusion is diluted with more water to make a cupful. This is sipped for chills, cold hands and feet, shock or depression. Capsiacin is the main hot substance of hot peppers, can be useful to treat depression as it can induce a rush of endorphins in the brain which can temporarily elevate mood.
Prevent Artery Blockage: Hot chilies are powerful anti-coagulant food and can be effective for preventing blood clots. People those are using chilies in everyday diet, seems safe from the life threatening blood clot diseases and less prone to blockage of arteries.
Side Effects and Precautions
Contraindicated in hypertension, hyper acidity, peptic ulceration, anal fissure, hepatitis, bleeding piles, cystitis and nephritis. Excessive use of raw form of Chili should be avoided during pregnancy as it can cause miscarriage. For people not used to with chili should avoid its preparation as it could causepain in the rectum or diarrhea.