If you're looking for an easy way to add flavor and a unique aroma to your favorite dishes, look no further than bay leaf! This herb has been used for centuries in many cultures for its multitude of health benefits, and its distinct flavor makes it a great addition to soups, stews, and other savory dishes. From helping to reduce inflammation to aiding in digestion, it is packed with nutrients that can help you stay healthy and feel great. In this post, we'll explore the wonderful benefits of bay leaf and how you can incorporate it into your cooking. We'll cover the nutritional content of the leaf, it's medicinal properties, and some delicious recipes that make use of this versatile herb. So get ready to learn more about this powerful plant and how it can improve your health and your cooking!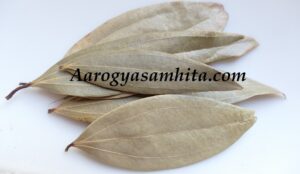 Bay Leaf Nutrition Facts and Calories Chart
It is a low calorie food, with only 6 calories per leaf. It is a good source of dietary fiber, providing 1.7 grams per leaf. This herb is also a good source of vitamins and minerals, containing small amounts of vitamin A, vitamin C, vitamin E, iron, calcium, and magnesium. Nutritional value per 100 g:
Biotin: 0.0 mcg
Calcium: 738.0 mg
Carbohydrates (Carbs): 10.7 g
Chloride: 34.0 mg
Cholesterol: 0.0 mg
Choline: 0.0 mg
Chromium: 0.1 mcg
Copper: 0.3 mg
Dietary Fiber: 5.4 g
Energy (Calories): 276.0 kcal
Fat: 5.4 g
Iodine: 0.3 mcg
Iron: 9.7 mg
Magnesium: 176.0 mg
Manganese: 0.6 mg
Molybdenum: 0.5 mcg
Pantothenic Acid: 0.7 mg
Phosphorus: 126.0 mg
Potassium: 1284.0 mg
Protein: 6.5 g
Saturated fat: 0.6 g
Selenium: 1.6 mcg
Sodium: 28.0 mg
Sugars: 4.3 g
Vitamin A: 5235.0 IU
Vitamin B1 (Thiamin): 0.2 mg
Vitamin B2 (Riboflavin): 0.1 mg
Vitamin B3 (Niacin): 2.8 mg
Vitamin B5 (Pantothenic Acid): 0.7 mg
Vitamin B6: 0.3 mg
Vitamin B9 (Folate / Folic Acid): 83.0 mcg
Vitamin B12: 0.0 mcg
Vitamin C: 5.2 mg
Vitamin D: 0.0 mcg
Vitamin E: 0.7 mg
Vitamin K: 1523.0 mcg
Water: 14.3 g
Zinc: 1.4 mg
Bay Leaf in India
The dried leaves of the Turkish bay laurel, Laurelus nobilis, are the most commonplace variety in the kitchen. Turkey is the biggest bay leaf exporter. The strong, almost resinous-tasting leaves of bay are used in soups, stews, spaghetti sauces, and marinades. The flavor is better if the bay leaf is added toward the end of cooking. Be sure to remove it from dishes before you serve them. This herb is included in many of the signature herb blends of Europe. Bouquets garni from France need bay for bittering, and Italian tomato sauces take some savory humility from bay laurel. On the Indian subcontinent, the leaves get ground into garam masala, and across Turkey, they perfume rice and grain dishes.
Scientific Binomial: Cinnamomum tamala
Common English: Indian Bay Leaf / Cinnamon Leaf / Sweet Bay Laurel Tree
Ayurvedic
Unani
Sanskrit: Tamalapattra
Hindi / Urdu: Tej Patta / Tejpatta
Bengali: Tejpat
Marathi: Tamal Patra
Telugu: Talisapatri / Talisha / Patta akulu / Dhalchichecka
Tamil: Talishappattiri / Birinji Ilai / Punnai Ilai
Gujarati
Kannada: Patraka
Malayalam: Tamalapatram / Karuva Ela
Oriya
Punjabi / Sindhi
Assamese
Kashmiri
Konkani
Manipuri
Dogri
Bhojpuri
Traditional Belief
It is believed that this herb enhances any magical endeavors, strengthen spiritual connection, increases creativity, bless and protect home. To increase your psychic powers, purify your home, and enhance any magical rituals you perform, burn the dried leaves as incense. Bay Leaf can also be used to increase your imagination and creativity. Put the leaves under your pillow at night to ensure inspiration, deepen your visions, and invite powerful dreams. Hanging this herb wreath in home will bring wisdom and inspiration, as well as invite abundance and justice into house. If you make a wish while holding a Bay Leaf, it will always come true. These are some olden days about bay leaf but science and recent studies bay leaf is useful in many other ways.
Home Remedies
The strong, spicy flavor of bay intensifies with drying; however, old leaves lose their flavor and should be discarded. Fresh leaves have a slightly bitter flavor. which dissipates if left for a few days to wilt. Whole leaves release more flavor when shredded or chopped. Remove whole leaves before serving. According to Ayurveda this herb useful in the treatment of anemia, cardiac disorders, fever and externally in body odor.
Asthma: Here is a herbal remedy with bay leaf that can be taken on a regular basis for long-term prevention of asthma. Try 1/2 teaspoon bay leaf and 1/4 teaspoon pippali mixed into 1 teaspoon honey, taken 2 or 3 times a day. This same mixture can be used for a productive cough.
Digestive Aid: Enliven your gastric fire with the common spice bay leaf. Steep 1/2 teaspoon crushed or ground-up bay leaf in a cup of hot water for about 10 minutes to make a tea. Add a pinch of cardamom, and drink after eating.
Skin Care: Mixing bay leaf oil with honey makes a salve effective for itching, sprains, bruises, skin irritations, and rheumatic pain.
Regulate Blood Sugar Level: To help regulate blood sugar level, try taking 1/2 teaspoon of ground bay leaf and 1/2 teaspoon turmeric, mixed in 1 tablespoon aloe vera gel. Take the mixture twice a day before lunch and dinner.
Osteoporosis: In osteoporosis, drinking a cup of comfrey leaf and bay leaf tea three times daily is helpful.