Are you looking for a delicious, nutritious snack that's both flavorful and healthy? Look no further than cashew! Cashew is a wonderful snack that can provide your body with a variety of essential vitamins and minerals that can help boost your overall health. Not only are they delicious, but they are also an excellent source of protein, fiber, and healthy fats. From helping to reduce cholesterol to providing your body with important minerals, cashews are an amazing snack that can help you stay healthy and satisfied. Here, we'll explore the many health benefits and why they are the perfect snack for your next healthy treat.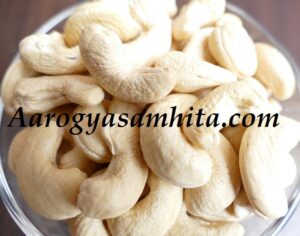 Cashew Nutrition Facts and Protein Chart
Cashews are a rich source of many essential nutrients. They contain high levels of protein, dietary fiber, and essential minerals such as magnesium, phosphorus, zinc, copper, iron, and selenium. They are also high in antioxidants, which can help protect against oxidative damage and inflammation. Cashews are also a good source of healthy fats, including monounsaturated fatty acids and polyunsaturated fatty acids. Furthermore, cashews are cholesterol-free and low in sodium. Nutritional value per 100 g raw unsalted cashew nuts:
Biotin: 0.2 mcg
Calcium: 11 mg
Carbohydrates (Carbs): 28.4 g
Chloride: 18 mg
Cholesterol: 0 mg
Choline: 10.2 mg
Chromium: 1.3 mcg
Copper: 0.7 mg
Dietary Fiber: 1.9 g
Energy (Calories): 553 kcal
Fat: 43.2 g
Iodine: 2.5 mcg
Iron: 5.9 mg
Magnesium: 167 mg
Manganese: 1.2 mg
Molybdenum: 11.7 mcg
Pantothenic Acid: 0.6 mg
Phosphorus: 447 mg
Potassium: 577 mg
Protein: 18.2 g
Saturated fat: 6.9 g
Selenium: 5.4 mcg
Sodium: 18 mg
Sugars: 4.3 g
Vitamin A: 0 IU
Vitamin B1 (Thiamin): 0.5 mg
Vitamin B2 (Riboflavin): 0.1 mg
Vitamin B3 (Niacin): 0.9 mg
Vitamin B5 (Pantothenic Acid): 0.6 mg
Vitamin B6: 0.3 mg
Vitamin B9 (Folate / Folic Acid): 15 mcg
Vitamin B12: 0 mcg
Vitamin C: 0.2 mg
Vitamin D: 0 IU
Vitamin E: 1.6 mg
Vitamin K: 0.1 mcg
Water: 4.1 g
Zinc: 1.6 mg
Cashew in India
It is the fruit of a tropical and subtropical ever green, a species, interestingly enough, that's related to American poison ivy and poison sumac. The tree is indigenous to the West Indies, Central America, Guiana, Peru and Brazil in all of which countries it is cultivated. Cashew nut is popular in Indian, Thai and Chinese cuisine. The main cashews producers and exporters are India, Tanzania, Mozambique, Angola and Vietnam.
Scientific Binomial: Anacardium occidentale
Common English: Cashew Nut
Ayurvedic: Agnikrita
Unani: Kaaju
Sanskrit: Agnikrita
Hindi / Urdu: Kaju
Bengali: Hijli
Marathi: Kaju
Telugu: Munthamamidi
Tamil: Mundiri / Andima / Mindiri
Gujarati
Kannada: Godambi / Geru
Malayalam: Kasu mavu
Oriya
Punjabi / Sindhi
Assamese
Kashmiri
Konkani
Manipuri
Dogri
Bhojpuri
Health Benefits and Uses
The shell of the fruit has thin layers, the intermediate one possessing an acrid, caustic oil, called cardol, which is destroyed by heat, hence the kernels are roasted before being eaten; the younger state of the kernel, however, is pronounced wholesome and delicious when fresh.
Cashews are good source of zinc. Zinc is a mineral that is critical to the work of more than three hundred enzymes in the body. These enzymes assist in cell reproduction, maintain vision, enhance the immune system, maintain fertility, repair wounds, synthesize protein, and perform many other functions.
Kernels are edible and wholesome, abounding in sweet, milky juice and are used for imparting a flavor to Madeira wine. Ground kaju mixed with cocoa makes a good chocolate. The juice of the fruit is expressed, and, when fermented, yields a pleasant wine; distilled, a spirit is drawn from the wine making a good punch.
Cashew oil is an edible oil equal to olive oil or almond oil is procured from the nuts but it is seldom prepared, the kernels being used as a table fruit.
Roasted cashew is relished as a snack, eaten with or without salt or sugar. Roasted nuts are used whole or in crushed pieces for snacks, cake, chocolate, candies, biscuits, ice-cream and dessert.
Buds and young leaves are used for skin diseases. In Java, old leaves are used as a paste applied to skin affections and burns. Pulped leaves are used for skin applications of infants for pemphigus neonatorum.
Cashew leaf teas are prepared as a mouthwash and gargle for mouth ulcers, tonsillitis, and throat problems and are used for washing wounds.
Cashew drink can be nice substitute for normal cow milk. Some people those are allergic to milk or those who want to lose weight can try a delicious drink made with cashew nuts. To make this take 1 cup of shelled, chopped raw cashew nuts, 1/2 cup unsweetened pineapple juice, 1 tbsp. each of honey and pure maple syrup, 1/4 cup chopped or crushed ice cubes, 2 3/4 cups spring or distilled water, pinch of powdered cardamon. Put all the ingredients in the blender and combine together at high speed for 4 minutes.
Cashew apple, kernel, leaves, bark, wood and roots have been employed in traditional folk medicine. The leaves, bark and roots are used in the management or control of arthritis, diabetes and other inflammatory conditions.
The nut is also made into cashew flour and cashew butter. The raw nut is used in cooking vegetarian and meat dishes.
Cashew nut shell oil is anti-hypertensive and purgative; it is used for blood sugar problems, kidney troubles, hookworms and cholera.
In India, the oil is used for, cracks on soles of feet and for corns, leprous sores and warts.
The residue of the shell is often used as fuel in cashew nut shell liquid extraction plants.
Seed coats are used as poultry feed.
FAQs.
Q. What is cashew apples and what are different ways to eat it?
The evergreen grows to about 40 feet tall and bears clusters of pear-shaped fruits called cashew apples. Below this fruit hangs the crescent-shaped cashew nut.
It can be used as vegetable and also in fruit salads.
The fleshy, juicy hypo carp or cashew-apple is also eaten raw when ripe.
It can be used for making juice, beverage, wine, vinegar, syrups, clarified and cloudy cashew apple juice.
Juice can be blended with other fruit juices and pulps like lime, pineapple, orange, mango, and papaya.
Cashew apple can be preserved as juice concentrate, candy, jam, mixed fruit jam, pickle, chutney, jelly.
It can also used as an ice-cream flavor.