Rose has been a beloved flower for centuries, and its beauty and fragrance are only part of its charm. Flower petals is also incredibly beneficial to our health and wellbeing, and its calming and healing properties make it a powerful medicinal plant. In this post, we'll explore the many benefits of flower and how it can help improve your overall health and wellbeing. From its anti-inflammatory properties to its ability to reduce stress and anxiety, it is a powerful natural remedy that can have a positive impact on your health. We'll also explore how to incorporate flower into your daily routine and the different forms of products that are available. Finally, we'll share some delicious and easy recipes that feature rose so you can enjoy its benefits in a tasty way. So, let's dive in and learn more about the amazing health benefits!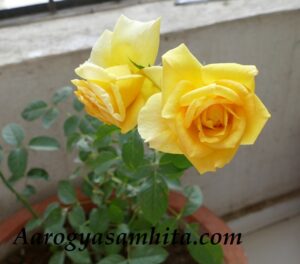 Rose Petals Nutrition Facts and Calories Chart
Rose petals are a good source of many vitamins and minerals, including vitamin C, vitamin A, beta-carotene, fiber, calcium, iron, and magnesium. Additionally, petals contain antioxidants and flavonoids, which are beneficial for health. It also contain some protein and carbohydrates. Nutritional value per 100 g rose petals:
Biotin: N/A
Calcium: 97 mg
Carbohydrates (Carbs): 5.4 g
Chloride: N/A
Cholesterol: N/A
Choline: N/A
Chromium: N/A
Copper: 0.1 mg
Dietary Fiber: 2.9 g
Energy (Calories): 33 kcal
Fat: 0.3 g
Iodine: N/A
Iron: 1.4 mg
Magnesium: 32 mg
Manganese: 0.2 mg
Molybdenum: N/A
Pantothenic Acid: N/A
Phosphorus: 33 mg
Potassium: 192 mg
Protein: 1.7 g
Saturated fat: 0.1 g
Selenium: N/A
Sodium: 4 mg
Sugars: 1.2 g
Vitamin A: 511 IU
Vitamin B1 (Thiamin): 0.1 mg
Vitamin B2 (Riboflavin): 0.1 mg
Vitamin B3 (Niacin): 0.6 mg
Vitamin B5 (Pantothenic Acid): N/A
Vitamin B6: 0.1 mg
Vitamin B9 (Folate / Folic Acid): 49 mcg
Vitamin B12: N/A
Vitamin C: 13 mg
Vitamin D: N/A
Vitamin E: 0.4 mg
Vitamin K: 22 mcg
Water: 84.5 g
Zinc: 0.2 mg
Home Remedies
Rose works great with other herbal mixtures to treat urinary infections, menstrual pain, uterine spasms, gynecologic problems, inflammatory skin conditions, menstrual irregularity, infertility, dysmenorrhoea (painful menstrual periods), metrorrhagia, endometriosis, fibroids, eczema, psoriasis, urticaria, itching and irritation. Its affinity for the blood make it useful in excessive menstrual bleeding, vaginal infections and inflammation. Rose leaves can also be used and are astringent and toning. The lovely fragrant flowers are used in love and heart potions and in many flower essence formulas.
Face Mask: Mix 2 tbsp honey with 2 tbsp sweet almond oil, 5 drops rose essential oil and 1 drop vitamin E oil. Massage on to the face and neck with fingertips. Relax for 15 minutes, then rinse off with lukewarm water.
Eye Health: Rose water, jasmine water, fennel or triphala infusion is good for eye infections, internally and externally. Reduce eyelid inflammation by using rose water drops. Rosebuds are also one of the safest and most widely used eyewashes, acting as mild astraingent, giving tone to the tissues, and shrinking capillary inflammation and redness. Steep two or three flowers in half cup of water until it reaches body temperature then strain well. Eye washes generally have little substantial effect on the infections and are best suited for simple inflammation. Rose have been used for centuries in folk medicine.
Stress: Flower has nourishing effect on nerves make it useful for nervous depression and anxiety. According to Ayurveda, its cooling quality can reduce symptoms of high pitta; red tongue tip, agitation, palpitations and headaches behind the eyes. It opens the heart chakra, thus increasing patience, compassion and love.
Cooling Effects: Flower has another wonderful cooling effect on skin. You can make your own rose hydrosol much more easily than you can distill rose essential oil. Rose hydrosol has a lovely, light rose scent, and is an excellent toner for the face. Spray it on the face and neck, and let the Queen of Flowers cool hot flashes, care for the skin, and instill a sense of peace.
Rose Petals Products
Rose Infused Honey: It has a cooling effect on the body, and it also has a profound impact on a person's mood and sense of inner peace. Another use of this honey is as a personal care product. Apply rose infused honey to the face as a facial or as a spot treatment for acne. Just apply with fingertips, and allow it to sit for 15 minutes. The heat from body will begin to thin the honey. Wipe off completely with a warm, wet facecloth. This pulls away bacteria without drying the skin. It may be the best facial ever developed for any skin type. Rose infused honey OR honey mixed with flower petals is very good at the initial stages of tuberculosis and coughs.
Gulkand: A rose petal jam. It is highly recommended as a cooling spread or drink which also acts as a mild laxative. Petals are preserved in sugar syrup or honey to form a jam, which is useful in reducing fever. It is a good laxative, a liver and heart tonic, and a purgative when consumed in large quantities.
Perfume: Along with gulkand, gulab attar is also very popular Indian product. Gulab attar is a divine mixture of sandalwood oil with rose vapor infused through it.
Rosehip Oil: Rosehip seed oil is a wonderful skin-healing oil and can be used to make homemade salve for burns. Rosehip seed oil is an excellent skin healer. Mix it with coconut oil to make effective diaper rash and wound healing lotion.
Tea: Eating disorders can be corrected easily with rose tea. Take a regular infusion of flower petals regularly about 6 times a day in 1 to 1/2 cup amounts. The best kind of roses to use for this are the red ones known as hybrid perpetuals. Bring 2 qts. of pure spring water to a rolling boil. Then remove the pot immediately from the heat and add 2 generous double handfuls of fresh red rose petals, along with 2 tbsps. of dried chamomile flowers obtained from any local health food store. Cover with a good, tight lid and permit to steep for few minutes. Remove the lid and allow to set an additional 15 minutes until somewhat lukewarm. Strain, sweeten with a touch of pure maple syrup and drink according to the instructions previously given. Reserve the rest for later use in a cool, damp place, but do not refrigerate. Each time it's taken, the tea should be somewhat lukewarm in order to work the best. Can be used for 17 hours.
Rose Water: Rose water is very popular in India for flavoring recipes. It also has many medicinal values and hence used in many folk remedies. Out of the hundreds of varieties any fragrant variety can be used medicinally. Rose water is made by covering a bowl of rose petals with boiling water and leaving them to infuse overnight. The next day the water is strained through muslin or a tea towel, squeezing all the moisture from the petals. Pour it into sterile bottles. Use in your bath, to fragrance rice in Persian-style cuisine or coconut ice. Rose is very good for summer routine so try to include the flower in variety of way. Here are some ideas. After yoga, anoint yourself with some fragrant rose oil. Place a drop on your third eye, throat and navel to keep these centers of awareness cool, calm and collected. When thirsty try drinking cool herbal rose tea. Another delicious delicacy is to collect a glass of fresh petals and cover them in sugar overnight (in the moonlight). In the morning you will have a delicious syrup elixir to mix in your almond milk or just dilute with water. Wash the face in organic rose water and spray it in your bedroom. It is important to fill the house and bedroom with fragrant roses in the summer. The flower has an affinity for the blood and, like all Rosaceae family, have a certain astringency that stops bleeding and reduces inflammation. Roses can help with fat metabolism and hence help to reduce blood lipid levels.
Side Effects and Health Risks
Hazards and/or side effects not known for proper therapeutic dosages. Make sure to strain rosehip tea well, the hairs that cling to the inner surface of the outer flesh can be irritating to the mouth and throat, and even best winnowing fails to remove them.
FAQs.
Q. What is rosehip and it's uses?
The haws or fruit of the dog rose bush or other rose species, high in vitamins C, E, K, beta-carotene, pectin, and bioflavonoids. Rose hips resembles a berry, but is actually a ripened hypanthium (an enlargement of the torus below the calyx). Rose hips contain more vitamin C than almost any other herb, and many times that of citrus fruit, when measured gram by gram. Vitamin C is a noted antioxidant with disease fighting capabilities. 3 ounces of dried rose hips contain 1,700 mg of vitamin C which is easily taken in 1 or 2 tablets from the health food store. Make fresh rose hips into a vitamin-rich syrup or jam. Rose hips make a delicious, mild-flavored tea, perfect on a cold night, sipped by a roaring fire. Powdered rose hips can be sprinkled on cereal or in blender shakes. Or try infusing the leaves, hips, and flowers together for a total rose tea. Rose water can be used face wash for astringing the skin and clearing acne.