Bananas are one of the most popular fruits in the world. Not only are they delicious, but they are also incredibly nutritious, providing a range of essential vitamins and minerals. In this post, we'll take a look at the health benefits of eating bananas, as well as some tasty recipes for you to try out. We'll also discuss some of the potential risks associated with over-consuming this fruit. So, grab yourself a banana and let's get started!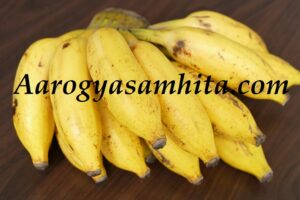 Banana Nutritional Value and Calories Chart
Bananas are an excellent source of dietary fiber, vitamin B6, vitamin C, potassium, and manganese. They are also a good source of magnesium, folate, riboflavin, niacin, and iron. One medium banana contains about 105 calories and 3 grams of dietary fiber. Apart from high nutritional value, bananas are good for all ages – children, old age, young or adult. There are many health benefits of eating banana everyday. Nutritional value per 100 g bananas:
Biotin: 0.2 µg
Calcium: 5 mg
Carbohydrates (Carbs): 22.84 g
Chloride: 17 mg
Cholesterol: 0 mg
Choline: 7.2 mg
Chromium: 0.42 µg
Copper: 0.092 mg
Dietary Fiber: 2.6 g
Energy (Calories): 89 kcal
Fat: 0.33 g
Iodine: 0.07 µg
Iron: 0.26 mg
Magnesium: 27 mg
Manganese: 0.17 mg
Molybdenum: 0.02 µg
Pantothenic Acid: 0.43 mg
Phosphorus: 22 mg
Potassium: 358 mg
Protein: 1.09 g
Saturated fat: 0.06 g
Selenium: 0.06 µg
Sodium: 1 mg
Sugars: 12.23 g
Vitamin A: 81 IU
Vitamin B1 (Thiamin): 0.031 mg
Vitamin B2 (Riboflavin): 0.072 mg
Vitamin B3 (Niacin): 0.665 mg
Vitamin B5 (Pantothenic Acid): 0.43 mg
Vitamin B6: 0.36 mg
Vitamin B9 (Folate / Folic Acid): 20 µg
Vitamin B12: 0 µg
Vitamin C: 8.7 mg
Vitamin D: 0 IU
Vitamin E: 0.1 mg
Vitamin K: 0.5 µg
Water: 74.91 g
Zinc: 0.14 mg
Banana in India
Bananas are native, in various forms, from India and Burma through the Malay Archipelago to New Guinea, Australia, Samoa and tropical Africa. It's universally cultivated in tropical regions. Banana has uncountable health benefits. Also no part of banana tree is waste.
Scientific Binomial: Musa paradisiaca
Common English: Banana / Plantain
Ayurvedic: Kadali / Rambhaa / Sakrtphala / Vaaranaa / Mochaa / Ambusaara / Anshumatiphal
Unani: Kelaa / Mouz
Sanskrit: Kadali
Hindi / Urdu: Kela
Bengali: Kala
Marathi: Kel
Telugu: Arati Pandu
Tamil: Vaazhai / Vazha Pazham / Monthan Valai
Gujarati
Kannada: Bale Hannu
Malayalam: Pazham / Vazha Pazham
Oriya
Punjabi / Sindhi
Assamese
Kashmiri
Konkani
Manipuri
Dogri
Bhojpuri
Home Remedies
Bananas has high nutritional value. These are rich source of thiamine, vitamin C, vitamin B6 (pyridoxine), vitamin B12 (cobolamin), potassium, and fiber. Ripe bananas are highly beneficial in the treatment of ulcerative colitis, being bland, smooth, easily digested and slightly laxative. They also relieve acute symptoms and promote the healing process. Bananas normalize colonic functions in the large intestine to absorb large amounts of water for proper bowel movements. Bananas are useful to treat boils, burns, celiac diseases, colitis, diarrhea, fatigue, herpes, headache, hypertension, insulin shock, rash, sores, stress, stomach ulcers, warts.
Skin Care: For insect bites and stings, rub a plantain banana skin over area to reduce itching.
Menstrual Bleeding: For menstrual disorders, cooked banana flower eaten with curd is one of the more important home remedy. The banana flower appears to increase progesterone hormone and reduce the bleeding.
Kidney Strengthener: For nephritis, a diet of bananas only should be taken for three or four days, consuming eight to nine bananas a day. As bananas contain low protein, salt and high carbohydrates, they are beneficial during nephritis.
Snake Bite Folk Remedy: For snake-bite especially cobra venom poisoning, it is believe that, the use of plantain roots juice works as an antidote.
Stomach Problems: For peptic ulcers try effective remedy with bananas. It contain an unidentified compound called, perhaps jokingly, vitamin U (against ulcers). The unripe banana, dried in shade at room temperature of 26-32° C and powdered, has shown to have anti-ulcer activity in a variety of chemically-induced ulcers; gastric ulcers produced by intraperitoneal injections of histamine, aspirin-induced ulcers and indomethacin induced ulcers.
Acidity: Bananas neutralizes the over acidity of the gastric juices and reduces the irritation of the ulcer by quoting the lining of the stomach.
Migraine Headache: In Trinidad, they apply a poultice of ripe banana peel to the forehead and back of the neck to relieve excruciating migraines.
Hypertension: In the Bahamas a decoction of fresh green peel is useful as a remedy for hypertension.
Banana and milk is an ideal diet for the patients who are in an advanced state of the disease.
FAQs.
Q. What are spiritual believes associated with banana plant?
Bananas yield one bunch of fruit and then die. The roots of the plants are very tenacious, so once a banana patch is established, it is hard to get rid of.
Some people believe that, banana attract abundance, increase fertility, protect property, and enhance ability to experience joy.
Sitting under a banana tree when meditate will dispel negative thinking and increase ability to experience joy. If they don't grow in nearby area, imagine yourself sitting under one, with warm trade winds blowing and the smell of fresh tropical flowers embracing you.
Place the leaves over door for protection.
A marriage ceremony performed under a banana tree will ensure the couple of a long and happy union. This is the reason why most of the Indian ceremonies need big banana leaves during. They use leaves in place of whole banana tree.
Eating the fruit on a regular basis will increase fertility.
Q. What can I do with leftover banana peels?
Don't throw those banana peels.
Raw unripe green banana peel is valuable remedy for cancerous sores, herpes lesions and diabetic leg ulcers. Take the peels and grate them to dry OR burn the peels for ash and apply of affected area.
Apply the inner surface of the ripe banana skin directly to burns, rash and boils for healing relief.
Curiously enough, the inside of the peel also makes a dandy shoe polish for scuff marks.
For plantar warts, cut the a piece of ripe banana skin and place the inside white mushy part against the warts. Tape it down good with some adhesive tape. Take out before bath and after finishing shower, dry the feet nicely and apply the fresh peel. Repeat at least for six months for complete cure, it will take at least a month to see any changes.