Are you looking for ways to add flavor to your dishes? Have you ever tried cumin seeds? It is a earthy and nutty spice that is commonly used in Mexican, Indian and Middle Eastern cuisine. It adds a unique, smoky flavor to many dishes, and can easily be incorporated into your cooking. In this post, we'll explore the many uses of cumin seeds and how to incorporate it into your cooking. We'll also discuss the health benefits of it, and provide some recipe ideas for using it. So, get ready to explore the wonderful world of cumin!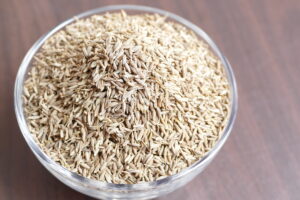 Cumin Seeds Nutrition Facts and Calories Chart
It is a popular spice that is used in a variety of dishes and cuisines around the world. A good source of iron, magnesium, phosphorus, and manganese, as well as vitamins A, C, and E.  It is packed with essential nutrients and boasts a number of health benefits. Seeds contains compounds that may help reduce blood sugar levels and help boost immunity. It improve digestion and reduce gas and bloating. Cumin has been used in traditional medicine for centuries to stimulate digestion and increase appetite. It contains antioxidants that can help reduce inflammation and protect cells from damage caused by free radicals.. Studies have shown that cumin may help reduce cholesterol levels, particularly LDL (bad) cholesterol. Nutritional value per 100 g cumin seeds:
Biotin: 0 mcg
Calcium: 617 mg
Carbohydrates (Carbs): 45.6g
Chloride: 0mg
Cholesterol: 0mg
Choline: 0mg
Chromium: 0mcg
Copper: 0.4mg
Dietary Fiber: 15.3g
Energy (Calories): 375 kcal
Fat: 21.9g
Iodine: 0mcg
Iron: 47.7mg
Magnesium: 327mg
Manganese: 3.9mg
Molybdenum: 0mcg
Pantothenic Acid: 0.5mg
Phosphorus: 539mg
Potassium: 1232mg
Protein: 18.4g
Saturated fat: 4.4g
Selenium: 0mcg
Sodium: 10mg
Sugars: 4.8g
Vitamin A: 0µg
Vitamin B1 (Thiamin): 0.9mg
Vitamin B2 (Riboflavin): 0.2mg
Vitamin B3 (Niacin): 4.9mg
Vitamin B5 (Pantothenic Acid): 0.5mg
Vitamin B6: 0.3mg
Vitamin B9 (Folate / Folic Acid): 0µg
Vitamin B12: 0µg
Vitamin C: 0mg
Vitamin D: 0µg
Vitamin E: 0.7mg
Vitamin K: 0µg
Water: 8.9g
Zinc: 3.3mg
Cumin Seeds in India
After pepper, cumin is considered to be the most important spice in the world, with India as the world's largest producer and consumer. Cumin seeds are pungent, savory brown seeds with a flavor common to Indian and Middle Eastern cooking. Adding a pinch of cumin powder on various recipes is great tasting option as well as good digestive aid.
Scientific Binomial: Cuminum cyminum
Common English: Cumin Seeds
Ayurvedic: Shveta-jiraka / Ajaaji / Shukla-ajaaji
Unani: Safed Jeeraa / Kamun
Sanskrit: Ajaji / Jirakam
Hindi / Urdu: Jeera
Bengali: Jeera/ Zeera
Marathi: Jira / Jire
Telugu: Jilakara / Jilakarra
Tamil: Cheerakam / Jeeragam / Seerakam / Cirakam
Gujarati
Kannada: Jeerige
Malayalam: Jeerakam
Oriya
Punjabi / Sindhi
Assamese
Kashmiri
Konkani
Manipuri
Dogri
Bhojpuri
Home Remedies
Cumin seed is a common cooking herb used as a remedy for indigestion, gas, digestive problems in children, and menstrual cramps. Heating the seeds, by cooking or infusing, aids the digestive power of the cumin. Cumin is very rich in vitamins and minerals, and is an antidote to weakness and fatigue.
Blood Cleanser: Cumin seeds makes a powerful tea either use ground or whole. Cumin has a pungent, bitter effect, with neutral to cooling properties. It acts as a blood cleanser, a carminative, aiding in the absorption of nutrients to the system.
Sore Throat: Preparations of cumin and cinnamon are useful in soothing the throat tissue. Steep these spices either together or separately in hot water and add honey to help coat and lubricate a sore throat.
Stomach Pain: Abdominal pain can also be treated with a cumin seeds poultice. During indigestion, a folk remedy suggest that, drink a quarter teaspoon of pepper powder and a quarter teaspoon of cumin mixed in thin buttermilk.
Digestive Aid: Chewing roasted fennel and cumin seeds after each meal improve digestion, which indirectly helps to detoxify the colon, and prevents dental caries.
Canker Sores: During canker sore, eating a mixture of rock candy powder (1/2 teaspoon) and cumin powder (1/2 teaspoon) will help stop the pain, as well as reduce inflammation and irritation.
Strengthen Circulatory System: In Kerala, the land of Ayurveda, jira water is a regular drink in many houses and even in restaurants. Instead of drinking just boiled water, a bit of jira is added to the water and brings good flavor and health: it balances vata, pitta, and kapha, helps to flush out the toxins from the body, and is helpful in strengthening our digestive and circulatory systems. According to Ayurveda, jira water contains good antiseptic properties that fight common cold and fevers.
Herbal Tea: Cumin tea is best option for those who want to replace black tea or coffee with herbal tea during fall and spring season. Take cumin, coriander and fennel seeds, all in equal quantities, to prepare this tea. Mix all seeds seeds and take 1 1/2 teaspoon of this mixture and add into a cup of hot water. Steep for 10 minutes, strain, and drink. Use this tea 3 times a day.

According to Ayurveda, burning sensation while urinating due to cystitis or prostate problems can also be treated by drinking this tea.
Drinking this tea after each meal is good digestive aid.
This is also helpful to relieve a pitta-type headache, swelling (edema) during pregnancy, to treat kidney problems and also a home remedy to treat acne.
Drinking this tea is effective for bed wetting resulted due to nightmares. Child doesn't drink tea just before bedtime but 2 hours before going to bed.

Fever Reducer: For fever, try excellent herbal tea made with coriander seeds, cinnamon powder and ginger. Mix the ingredients in 2:2:1 parts and take 1 teaspoon of this mixture. Add it to a cup of hot water and steep for 10 minutes. You can drink this every few hours until the fever breaks. Cumin oil is used in many types of flavoring in curries and culinary preparations. In medicine, it is sometimes used as a carminative.
Nosebleed: Cumin seeds are useful to treat nosebleed and bleeding from lungs. An infusion of seeds should be mixed with fresh lime juice and taken during this problem.
Scorpion Sting: The paste of jeera seeds is beneficial for scorpion sting. Make a paste with onion juice and apply on the affected area.
Boils: Applying a paste of cumin made with small amount of water works with boils to bring it to head.
Brain Tonic: Black cumin seeds are good to treat memory problems as it is brain tonic. Take 3 gm of black cumin seeds powder and mix with honey. Lick everyday this mixture to treat forgetfulness and dullness of memory.
Sinusitis: To treat sinusitis, tie a tablespoon of cumin in clean cotton cloth and inhale to get relief. Also try taking mixture of 1 part roasted cumin powder and 2 parts honey.
Improves Lactation: A decoction of the jira seeds with milk and honey can increase lactation in nursing mother.
Renal Colic: To treat renal colic, mix together 20 gm. of cumin seeds, 12 gm of caraway seeds, and 6 gm of black salt. Ground this mixture with little vinegar. Take 3 gm of this mixture, every hour till relief is obtained.
Insomnia: To assure a very good night sleep, try taking a tablespoon of fried cumin seeds powder with a pulp of a ripe banana. Take this as the last thing at night to treat sleeplessness.
Side Effects and Precautions
It is generally regarded as safe. Cumin is an abortifacient and should be avoided if pregnant. An excess of it may cause nausea.