Tomato is one of the most popular vegetable in the world. It is delicious, nutritious and incredibly versatile. In this post, we'll explore the many uses, from soups and salads to sauces and pastes. We'll also look at the health benefits of tomato, such as their high levels of lycopene, vitamin C and other antioxidants. Finally, we'll discuss some tips for choosing, storing and preparing tomatoes in the kitchen. Whether you're a beginner or a seasoned chef, this post will provide you with all the information you need to make the most of your tomatoes.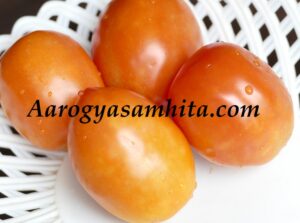 Tomato Nutrition Facts and Calories Chart
Tomatoes are an excellent source of many essential nutrients, including vitamins A and C, potassium, and lycopene. Tomatoes are also a good source of dietary fiber, which can help keep you feeling full and may help reduce your risk of heart disease. Additionally, the antioxidant lycopene found in tomatoes has been linked to a variety of potential health benefits, including a reduced risk of certain cancers and improved eye health. Eating a diet rich in tomatoes may help you maintain a healthy weight, as well as provide essential nutrients for your overall health. One medium tomato contains just 22 calories and provides 20% of the daily recommended value of vitamin C. Tomatoes also contain a good amount of vitamin A, potassium, folate, and fiber. Nutritional value per 100 g tomato:
Biotin: 0.4 µg
Calcium: 10 mg
Carbohydrates (Carbs): 4.2 g
Chloride: 50 mg
Cholesterol: 0 mg
Choline: 5.9 mg
Chromium: 0.3 µg
Copper: 0.06 mg
Dietary Fiber: 0.9 g
Energy (Calories): 18 kcal
Fat: 0.2 g
Iodine: 0.3 µg
Iron: 0.2 mg
Magnesium: 10 mg
Manganese: 0.05 mg
Molybdenum: 0.1 µg
Pantothenic Acid: 0.2 mg
Phosphorus: 20 mg
Potassium: 167 mg
Protein: 0.8 g
Saturated fat: 0.02 g
Selenium: 0.3 µg
Sodium: 3 mg
Sugars: 2.6 g
Vitamin A: 292 IU
Vitamin B1 (Thiamin): 0.06 mg
Vitamin B2 (Riboflavin): 0.06 mg
Vitamin B3 (Niacin): 0.3 mg
Vitamin B5 (Pantothenic Acid): 0.2 mg
Vitamin B6: 0.07 mg
Vitamin B9 (Folate / Folic Acid): 13 µg
Vitamin B12: 0 µg
Vitamin C: 9.7 mg
Vitamin D: 0 IU
Vitamin E: 0.2 mg
Vitamin K: 9.4 µg
Water: 94.5 g
Zinc: 0.07 mg
Tomato in India
Scientific Binomial: Solanum lycopersicum / Lycopersicon esculentum
Common English: Love Apple
Ayurvedic
Unani: Tamaatar
Sanskrit: Raktamaci
Hindi / Urdu: Tamatar
Bengali: Tomaato
Marathi: Tomato
Telugu: Tametokai
Tamil: Takkali pazham
Gujarati
Kannada
Malayalam: Takkali pazham
Oriya
Punjabi / Sindhi
Assamese
Kashmiri
Konkani
Manipuri
Dogri
Bhojpuri
Home Remedies
Tomato is useful in the treatment of acne, bronchitis, eye disorders, gout, halitosis, liver ailments, obesity, rheumatism, sinus trouble, sore throat, and varicose veins. In the treatment of prostate enlargement, eat lots of tomatoes or tomato-based products – as many as 10 servings per week. Tomatoes are rich in lycopene, the prostate – friendly antioxidant.
Insomnia: Tomato juice is effective treatment for insomnia. Here's a use for tomato juice you probably never thought of. Drink 1 cup with 2 teaspoons natural sugar and 2 pinches of nutmeg. Drink the juice between four and five in the afternoon; have dinner between six and seven. That evening you should get a sound sleep.
Rich Source of Vitamins and Minerals: Tomatoes are rich source of chlorine, Sulphur, vitamin A, flavanones, phenylalanine, B-carotene, Vitamin B2 (riboflavin), Vitamin C, Vitamin K, Vitamin B3 (niacin or nicotinic acid), lycopene, glucose and fructose.
Sunburn: In case of sunburn, take a paste of fresh tomatoes with little buttermilk. Spread over sunburned skin to give a more even and slightly darker tan.
Wounds: Tomato is good to heal festering wounds and sores. For minor cuts, try putting a slice of tomato on it and then some gauze with tape. Change couple of times a day and within 2-3 days the infection will clear up.
Reduce High Blood Pressure: Tomato contains potassium which is very effective to reduce high blood pressure and shows positive influence upon the kidneys. One big size tomato may contain 450 milligrams of potassium. To get more potassium and less calcium try this delicious drink. Blend together 2 tomatoes, 1 tsp. each of ground tarragon, paprika, ground turmeric, ground basil and 1 tbsp. of lemon juice, along with 1/2 cup of water. A nice beverage to bring hypertension under control with almost 1,200 milligrams of potassium.
Rebuilding Strength: Ripe tomatoes are high in glucose and particularly fructose. This gives building strength in place of fatigue for hypoglycemics patients or for people have low blood sugar problem. Tomatoes can play a vital role in rebuilding their strength. Fresh tomato juice was extremely effective in accelerating the glycogen (blood sugar) formation. Those who are athletically active in any way, they may find powdered tomato seeds worth taking as an ideal protein supplement.
Liver Strengthener: Tomato contains chlorine and Sulphur. These both the contents are very important detoxifying. Natural chlorine helps to stimulate the liver in its function as a filter for body wastes and further assists this major organ in its efforts to remove toxic waste products from the system. Sulphur helps to protect the liver from cirrhosis and other debilitating conditions. Limited clinical evidence also suggests that fresh juice from vine ripened tomatoes can actually help the liver to regenerate or reproduce a part of itself if another portion has been destroyed or surgically removed. Thus we can see that tomatoes definitely help promote the health and well-being of one of the body's most important organs.
Heart Health: Tomato usually helps to dissolve this fat, thereby preventing hardening of the arteries. Lycopene is a fat-soluble, non-provitamin A carotenoid that imparts the red color to tomatoes. Lycopene is best absorbed from tomato products such as pastes and sauces, rather than from unprocessed fresh tomatoes. Although lycopene is not considered an essential nutrient, it is important for well being and optimal health. It it a powerful antioxidant. It helps to reduce LDL cholesterol levels and lipid oxidation.
Prostate Health: Lycopene is often included as an ingredient in antioxidant combination supplements and is thought to contribute to risk reduction for cancer. Recent study suggest that increased consumption of lycopene from tomatoes and tomato-based products may be prudent in order to reduce the risk of prostate cancer in men.
Diarrhea: Dried tomatoes are good to treat diarrhea. Either get dried tomato from store or make them into oven at home. To make home made dried tomatoes, slice the just ripened tomatoes and dry them in a dehydrator for 2 hrs. at 155 F. and another 9 hrs. at 125 F. You may also dry them in oven instead for the same length of time at the identical temperatures just cited. When they are thin and crispy, take out from the oven. Choose 10-12 slices and powder them. Take this mixture in 1/2 cup of cold water. Try taking as per requirement in case of mild diarrhea. Adding same amount of dried apple powder will be more beneficial. To make dry apples repeat the above procedure.
Tomatoes for Skin Care
They are one of the most popular vegetables in the world. Tomatoes are versatile and packed with nutrients, and can be eaten raw, cooked, or in sauces. But did you know that tomatoes can also be used for beauty treatments? Here are five DIY tomato-based beauty recipes that you can make at home to bring a healthy glow to your skin. These are just a few of the many ways you can use tomatoes for beauty treatments. Try them out and see which one works best for you!
Tomato and Yogurt Face Mask: This mask is great for hydrating and soothing your skin. To make it, mix together a half cup of plain yogurt, one tablespoon of tomato juice, and one tablespoon of honey. Apply the mixture to your face and neck, then let it sit for 15 minutes before rinsing off.
Tomato and Honey Facial Cleanser: This cleanser is perfect for removing makeup and dirt from your skin. To make it, mix together one tablespoon of tomato juice, one tablespoon of honey, and one tablespoon of olive oil. Apply the mixture to your face and massage it in with your fingertips. Rinse off with lukewarm water.
Tomato and Egg Hair Mask: This mask is great for adding shine and softness to your hair. To make it, mix together one egg, one tablespoon of tomato juice, and one tablespoon of honey. Apply the mixture to your hair, then let it sit for 15 minutes before rinsing off.
Tomato and Honey Foot Scrub: This scrub is perfect for exfoliating and softening dry, cracked feet. To make it, mix together one tablespoon of tomato juice, one tablespoon of honey, and one tablespoon of sea salt. Massage the mixture into your feet, then rinse off with cool water.
Tomato and Honey Lip Balm: This lip balm is great for keeping your lips soft and hydrated. To make it, mix together one tablespoon of tomato juice, one tablespoon of honey, and one tablespoon of coconut oil. Apply the mixture to your lips and leave it on overnight.