Pomegranate is a delicious, nutritious fruit that has been enjoyed for centuries. Not only are they full of antioxidants that can help keep you healthy, but they can also be used in a variety of dishes to add a pleasant, sweet-tart flavor. From salads to desserts, you can find a way to incorporate this delicious fruit into your diet. In this post, we'll explore the many benefits and provide suggestions for how to enjoy them. From their health benefits to their versatility in the kitchen, it's time to start incorporating this amazing fruit into your diet. So, add some pomegranates to your grocery list and get ready to enjoy the many benefits they have to offer.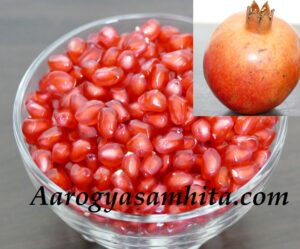 Pomegranate Nutrition Facts and Calories Chart
Pomegranates are a powerhouse of nutrition. Just one cup of pomegranate arils contains 7 grams of fiber, which is 28% of the recommended daily value. Pomegranates are also a great source of vitamins C and K, as well as folate, potassium, and antioxidants. Additionally, pomegranates are low in calories and fat, making them a great snack to include in a healthy diet. Nutritional value per 100 g pomegranate:
Biotin: 0 mcg
Calcium: 12 mg
Carbohydrates (Carbs): 15.4 g
Chloride: 2 mg
Cholesterol: 0 mg
Choline: 0.2 mg
Chromium: 0.5 mcg
Copper: 0.1 mg
Dietary Fiber: 2.4 g
Energy (Calories): 83 kcal
Fat: 1.1 g
Iodine: 0.9 mcg
Iron: 0.3 mg
Magnesium: 10 mg
Manganese: 0.2 mg
Molybdenum: 0.9 mcg
Pantothenic Acid: 0.1 mg
Phosphorus: 22 mg
Potassium: 236 mg
Protein: 1.3 g
Saturated fat: 0.1 g
Selenium: 0.5 mcg
Sodium: 1 mg
Sugars: 13.7 g
Vitamin A: 5 IU
Vitamin B1 (Thiamin): 0.1 mg
Vitamin B2 (Riboflavin): 0.1 mg
Vitamin B3 (Niacin): 0.4 mg
Vitamin B5 (Pantothenic Acid): 0.1 mg
Vitamin B6: 0.1 mg
Vitamin B9 (Folate / Folic Acid): 9 mcg
Vitamin B12: 0 mcg
Vitamin C: 6.5 mg
Vitamin D: 0 IU
Vitamin E: 0.2 mg
Vitamin K: 2.4 mcg
Water: 84.5 g
Zinc: 0.1 mg
Pomegranate In India
Scientific Binomial: Punica granatum
Common English: Pomegranate
Ayurvedic: Daadimba / Raktapushpa / Dantabijaa / Raktakusumaa / Lohitpushpaka
Unani: Anaar / Roomaan/ Gulnaar / Gulnaar Farsi
Sanskrit: Daadima
Hindi / Urdu: Anar
Bengali: Dalim
Marathi: Dalimb
Telugu: Danimma pandu
Tamil: Mathalampazham / Madulai / Maathulai
Gujarati
Kannada: Dalimbari
Malayalam: Mathalampazham
Oriya
Punjabi / Sindhi
Assamese
Kashmiri
Konkani
Manipuri
Dogri
Bhojpuri
Home Remedies
Pomegranate shows promise as an anticancer agent. With its very high levels of polyphenols, pomegranate juice clearly has powerful antioxidant activity. This makes the juice a valuable supplement to help prevent cancer development. Pomegranate extracts inhibit the growth of breast, prostate, colon, and lung cancers in cell cultures and animals studies. The antioxidants also aid heart function and arterial health. Extracts also protect against ultraviolet light induced skin cancer.
Anemia: Pomegranate juice is rich in iron. It can be used as blood builder, to correct drowsiness and to fight fatigue due to anemia. Add beet and carrot juice from maximum effect.
Internal Bleeding: Pomegranate juice is also helpful to stop internal bleeding. If you have rectal bleeding from the hemorrhoid, drink a few ounces of pomegranate juice between meals. That juice will act as a hemostatic, to stop the bleeding.
Parasitic Worms: The bark, both of the root and the stems of pomegranate tree, is well known for its anthelmintic properties of destroying parasitic worms. The root-bark is, however, preferred as it contains greater quantity of the alkaloid punicine than the stem-bark. This alkaloid is highly toxic to tapeworms. Ninety to 180 ml. of the cold decoction of bark, preferably fresh bark, should be given three times at intervals of one hour to an adult. A purgative should be given after the last dose. The dose for children is 30 to 60 ml. The decoction is used for expelling tapeworms.
Dysentery: The use of pomegranate rind is effective remedy for dysentery. About 60 grams of the rind should be boiled in 250 grams of milk. It should be removed from the fire when one third of the milk has evaporated. It should be administered to the patient in three equal doses at suitable intervals. It will relieve the disease very soon.
Prostate Health: In men with prostate problems, drinking 8 ounces (235 ml) of pomegranate juice a day significantly slowed the rise in blood levels of prostate-specific antigen, a protein used to track benign and cancerous prostate conditions.
Kidney and Bladder Stones: A tablespoonful of pomegranate seeds, ground into a fine paste, is sometimes added to a cupful of horse-gram soup to help dissolve kidney stones and bladder stones.
Gum Care: Pomegranate contain flavonoids that help strengthen connective tissues, such as those in the gums. Pomegranate also has a mild antibacterial effect.
Hot Flashes: In the treatment of hot flashes during menopause, try drinking 1 cup of pomegranate juice with 1 teaspoon rock candy powder or organic sugar and 5 to 10 drops of lime juice. You can drink this 2 or 3 times per day, as needed to relieve hot flashes.
None Bleeding: To stop nose bleeding instantaneously, pick few drops of the fresh juice in an eyedropper and place them in each nostrils.
Diarrhea: Due to its astringent properties pomegranate is very beneficial in the treatment of diarrhea. If the patient develops weakness due to profuse and continuous purging, he should be given repeatedly about 50 ml. of pomegranate juice to drink. This will control the diarrhea.
Cough: To treat cough in children try giving the child a drink of 1/2 cup pomegranate juice with a pinch of ginger powder and a pinch of pippali powder.
Tonsilitis: Pomegranate are very good for tonsilitis. If a child is with infected tonsils, try pomegranate tea. Try a bit of tea several times a day and you may find a clearing up of the tonsil condition before the need arises to have them removed.
FAQs.
Q. How to make a pomegranate juice at home?
Drinking 235 ml of pomegranate juice or sprinkling the fleshy arils on salads and whole-grain cereals can protects against cardiovascular disease. In people who already have coronary artery disease, drinking a cup a day for three months improved stress induced reductions in blood flow to the heart. To make pomegranate juice:
Take out arils from the fruit.
Put all the arils into a blender or food processor.
Blend the arils until they liquefy; they will still have pulp.
Pour the pulpy mixture through a strainer into the bowl
Pressing down against the pulp to push the optimal amount of juice through the strainer into the bowl.
Approximately you will get 60 ml juice from one full fruit.
Pour the juice from the bowl into an 235 ml glass.
Add water to fill the glass.
Stir in honey to taste.