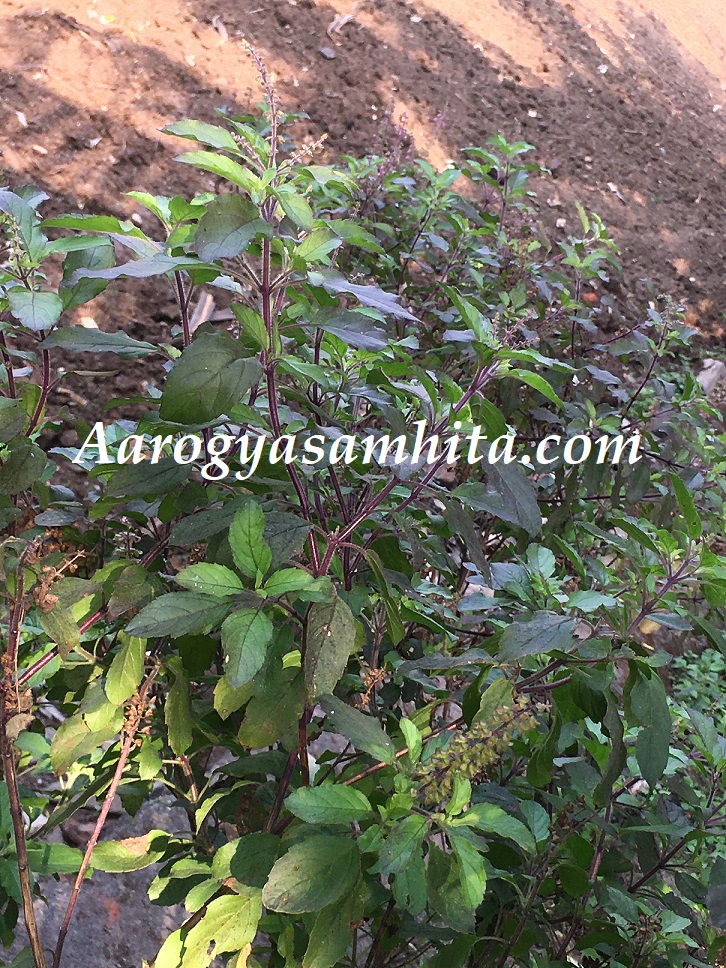 Basil is also known as Ocimum basilicum (Scientific Binomial Name), Sweet Basil / Basil Herb (Common English), Barbari / Tuvari / Tungi / Kharpushpa / Ajgandhikaa / Baabui (Ayurvedic), Faranjmishk (Unani), Tulasi (Hindi / Urdu), Tiruneetruppachhilai / Tirunittru (Tamil), Sabza / Ram Tulas (Marathi), surasa / amruta (Sanskrit), Khubkalam (Bengali), Thulasi / Tulsi-Chettu (Telugu), Tulasi / Amli / Huli (Kannada), Kattu tulasi / Sivatulasi (Malayalam). Indian holy basil is the sacred plant of Krishna, this herb is said to open the heart and mind, bestowing the energy of love and devotion.
Holy Basil Health Benefits
Basil has a strengthening effect on the kidneys. In case of kidney stones, basil juice and honey should betaken for six months. It has been found that the stones can be expelled from the urinary tract with this treatment. Basil essential oil is good for oily skin bath, fertility, amenorrhea, menopause, anxiety, blood pressure, depression, chasing away nightmares and to diffuse anger. For the treatment of warts, crush a fresh basil leaf and tape it over wart with waterproof first-aid tape. The leaves contain virus-killing compounds. Replace with fresh basil daily for up to a week.
Organic Tulsi Herb Leaves Uses
Tulsi leaves, is an excellent remedy for influenza, chronic fever and flu. About 1 gram of basil leaves should be boiled along with some ginger in half a liter of water till about half the water is left. This decoction should be taken as tea. It gives immediate relief. Add 1/4 teaspoon black pepper and 1 teaspoon honey for better effect. It is good to chew 12 leaves of basil twice a day, morning and evening for preventing stress. Basil is great in treating halitosis/bad breath. Make a mouthwash by covering 1 handful of dried basil leaves with 1 cup of boiling water, cover and leave for 15 minutes. Cool, and then rinse mouth well. This cooking herb can be used in dried herb form or as an infusion for stomach problems such as spasms and gastric distress. Basil promotes mental clarity and concentration. In addition, it has an uplifting effect. Use it in a diffuser, a steam inhalation, a bath, or a massage.
Green Basil Tea
To treat anger and hostility, drink chamomile, tulsi, rose tea. With 1 part of holy basil, mix 1 part chamomile and 2 parts rose petal powder. Steep 1/2 teaspoon of this mixture in 1 cup of hot water, cool it, and then drink. You can drink it 3 times a day, after each meal. Here is a domestic remedy for depression – tea made of holy basil and sage. Use 1/4 teaspoon tulsi and 1/2 teaspoon of sage per cup of hot water; drink twice a day. The leaves of the holy basil are considered beneficial in the prevention of malaria. An infusion of some leaves can be taken daily for this purpose. The juice of about 11 grams of tulsi leaves mixed with three grams of black pepper, powder, can be taken beneficially in the cold stage of the malarial fever. The leaves of the Ocimum basilicum have also been found beneficial in the treatment sore throat, inflammation of the pharynx, or back of the throat. The water boiled with basil leaves should be taken as a drink and also used as a gargle in sore throat.
Basil Leaves for Cooking
In India people will chew on the leaf of a Holy Basil plant to ease sore throats and scratchy voices. In the western world, in may not be so easy to find a fresh leaf to chew on. Instead go to your nearest health food store and purchase the dried leaves or powder with which to make a tea. Add lemon to accentuate the taste and provide further healing properties. This is helpful to treat nausea too. Favored by the Italians, basil quickly loses it volatile oils and flavor so it is best added at the end of the cooking process. There are so many culinary uses for Basil and it is great combined with tomato. Basil relieves upper digestive discomfort, indigestion, and bloating, and is applied topically to acne and insect bites. It is prized in Indian medicine as a tonic that clears the mind. It has many benefits, including stabilizing blood sugar levels and soothing chest conditions. Holy basil promotes better uptake of sugars within the body, and can prove particularly helpful in the early stages of diabetes. Commonly used for cough and bronchitis, holy basil also helps to lower blood pressure and cholesterol.
Ocimum basilicum Side Effects
There are no warnings that it causes problems when used with other medications, and as long as you take it twice a day, and no more, without a doctor's orders to do so.