Mango is one of the most delicious fruits that nature has to offer. It is juicy and sweet, with a hint of tartness that makes it even more irresistible. There are many different varieties of the fruit, each with its own unique flavor and texture. From the classic Indian Alphonso to the Thai Nam Dok Mai, each type has its own unique flavor and characteristics. Not only it delicious, but also incredibly healthy. It is full of vitamins and minerals, and is a great source of dietary fiber. Eating mango can help to reduce inflammation, improve digestion, and even boost your immune system. In this post, we'll explore the many health benefits, as well as some of our favorite recipes that incorporate this delicious fruit. So grab a mango and get ready to learn all about why this tropical delight is so good for you!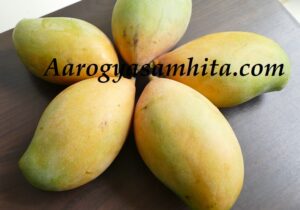 Mango Nutrition Facts and Calories Chart
Mangos are a delicious, tropical fruit that are packed with nutrition. One cup of sliced mango contains 100 calories, 1 gram of protein, 23 grams of carbohydrates, 3 grams of dietary fiber, and 20 grams of sugar. Mangos are a great source of Vitamin A, Vitamin C, and Vitamin B6, and are also high in potassium, magnesium, and folate. Eating this fruit can help boost your immune system, and may even help protect against some types of cancer. With its sweet flavor and nutritional benefits, it's no wonder that mango is so popular! Nutritional value per 100 g mangos:
Biotin: 0.0003 μg
Calcium: 12 mg
Carbohydrates (Carbs): 14.98 g
Chloride: 11 mg
Cholesterol: 0 mg
Choline: 8.6 mg
Chromium: 0.2 μg
Copper: 0.093 mg
Dietary Fiber: 1.6 g
Energy (Calories): 60 kcal
Fat: 0.3 g
Iodine: 1.3 μg
Iron: 0.26 mg
Magnesium: 10 mg
Manganese: 0.097 mg
Molybdenum: 1.5 μg
Pantothenic Acid: 0.128 mg
Phosphorus: 17 mg
Potassium: 156 mg
Protein: 0.8 g
Saturated fat: 0.04 g
Selenium: 0.3 μg
Sodium: 1 mg
Sugars: 12.97 g
Vitamin A: 730 IU
Vitamin B1 (Thiamin): 0.042 mg
Vitamin B2 (Riboflavin): 0.033 mg
Vitamin B3 (Niacin): 0.281 mg
Vitamin B5 (Pantothenic Acid): 0.128 mg
Vitamin B6: 0.094 mg
Vitamin B9 (Folate / Folic Acid): 16 μg
Vitamin B12: 0 μg
Vitamin C: 11.7 mg
Vitamin D: 0 μg
Vitamin E: 0.26 mg
Vitamin K: 3.3 μg
Water: 84.54 g
Zinc: 0.13 mg
Mango in India
In India, mango is popular as king of fruit. All parts of the plant are useful in traditional South Asian medicine, but the fruits are most important. Fruit is high in beta carotene, which gives a yellowish-orange color to them.
Scientific Binomial: Mangifera Indica
Common English: Mango
Ayurvedic: Amb / Rasaal / Sahakaar / Pikavallabha / Madhudoot / Atisaurabha / Maakanda
Unani: Ambaj
Sanskrit: Aamra
Hindi / Urdu: Aam
Bengali: Aam
Marathi: Amba
Telugu: Mamidi pandu / Mamidi
Tamil: Mam pazham / Ma / Mau / Mamaram – bark / Mangottai Paruppu – seed  / Mankani
Gujarati
Kannada: Mavina hannu / Mavina mara / Jakayi / Jatiphala
Malayalam: Mam pazham / Mangga
Oriya
Punjabi / Sindhi
Assamese
Kashmiri
Konkani
Manipuri
Dogri
Bhojpuri
Home Remedies
According to Ayurvedic classical texts, pulp is a cardiac tonic, promotes complexion, semen, and strength, increases digestive power, cures urinary diseases, and disorders caused by vitiated blood. It belongs to the astringent group of drugs. Here are few medicinal uses and home remedies with mango.
Sore Throat: Bark is beneficial in the treatment of sore throat. It is very efficacious in sore throat and other throat disorders. Apply fluid locally for beneficial results. It is also useful as a throat gargle. Make this gargle by mixing 10 ml. of the fluid extract with 125 ml. of water.
Insect Bites: In India, mango fruit sap used as treatment the pain of bee and scorpion stings.
Constipation: In the Philippines, ripe fruit is useful to settle nervous and upset stomach and to stimulate the bowels in times of constipation.
Spleen Enlargement Treatment: Juice of ripe mango, added with honey is useful in enlargement of spleen.
Raw Mango: Raw mango also know as kairy. It is very useful in treating summer related health conditions. Unripe mango juice is also a great remedy for exhaustion and heat stroke. During summer popular recipes with raw fruit are – raw mango pickle, kairi panha, green mango chutney, murabba, and chunda.
Eating half ripe fruit with salt and honey and is also useful for the treatment of gastrointestinal, bilious and blood disorders and scurvy in many tropical countries.
Face Mask: Some Indonesian women use mango to make a face mask to dry and tone the skin. To make the mask, mash a mango until it turns into soft pulp, massage it into your skin, leave it on to dry for a few minutes, then rinse off. It helps to unclog the pores.
Diarrhea: The seed kernel cures vomiting and diarrhea; also cures burning sensation in the chest due to acidity.
Dandruff: According to Ayurveda, seed – kernel of mango, is effective in dandruff treatment. Pound seeds with Terminalia chebula (Haritaki) and apply to the scalp to treat the dandruff.
Piles: Mango seeds are valuable in diarrhea. Collect the seeds during the mango season. Dry in the shade, make a powder and keep in tight jar to use as medicine when required. To make an effective remedy for bleeding piles, mix one and a half gram to two grams of powder with honey.
A paste made of the seed kernel, honey and camphor was useful for treating relaxed vagina.
Vitality: Fruit is rich source of vitamin A, and fiber. Vitamin A is essential for growth and vitality. Eating one ripe mango daily, and an hour or so later drinking 1 cup of warm milk with 1 teaspoon ghee added, is also good for increasing vitality. A variation is to drink 1 cup of fresh mango juice, followed an hour or so later by 1/2 cup of warm milk with a pinch of cardamom, a pinch of nutmeg, and 1 teaspoon of ghee. This is also helpful to control hypertension.
Reduces Cholesterol Levels: The amount of fiber in the diet also influences the cholesterol levels and LDL cholesterol. LDL can be lower by taking diets rich in fibers.
Side Effects and Precautions
Apart from so many medicinal uses, here are few side effects and precautions to take while enjoying this fruit. Over indulgence in mango can lead to weakening of digestive fire, intermittent fever, disorders of blood, and ophthalmic disorders. One must therefore not eat the fruit excessively. Many of the traditional Indian medicinal uses of mango involve eating unripe fruit. Unripe fruit contains much toxic sap, which can cause throat irritation, indigestion, dysentery and colic.
FAQs.
Q. How to make mango leaves tea and how to use it?
A watery extract (tea) of mango leaves is very useful to treat not only diabetes, but also blood vessel problems and eye complaints related to this disease. They help to slow down the progress of diabetic angiopathy (disease of the blood vessels due to diabetes). A tea made from mango leaves gives excellent results in the treatment of diabetic retinopathy. This is a non inflammatory degenerative disease of the retina occurring in those who've had diabetes for many years. The condition is marked by small hemorrhage dots and very tiny enlargements of blood vessels within the retina itself, as well as sharply defined waxy exuded matter. Here is step by step recipe to make this tea
Pick 1 1/2 large or 2 medium sized leaves and dry halfway on a piece of clean cloth for only one day.
While still somewhat moist, snip with shears into inch-size pieces and place in 1 quart of boiling water.
Cover, remove from the stove and steep for an hour.
Strain and tea is ready.
Drink 1 cup each day, add 2 tbsp. of mango juice.
This remedy in the same amount is also ideal for strengthening fragile blood vessels, treating purpura (hemorrhage spots in the skin) and varicose veins, and in the prevention of bleeding accidents through the use of anticoagulant drugs.
For high blood pressure, drink 2 cups a day, three days in succession. Then go for several days without the tea, before repeating the process all over again. This sedative action to the leaves may be due, in part, to eremophilene, which also occurs in the herbal tranquilizer, valerian.
Related Articles
Mango and Diabetes: Discover the Health Benefits and Guidelines for Diabetics – A comprehensive guide on the delightful combination of mango and diabetes management. If you're a mango lover with diabetes or someone seeking to understand how this succulent fruit can fit into a diabetes-friendly lifestyle, you've come to the right place. We delve into the nutritional benefits of mango, its impact on blood sugar levels, and the potential advantages it offers for individuals with diabetes. Join us on this journey to explore the sweet harmony between mango and diabetes, empowering you to make informed choices and embrace the natural goodness of this tropical fruit in your diabetes management plan.
Mango Leaves: Nature's Wellness Treasure Trove – Uncover the hidden potential of these humble leaves and their remarkable impact on our health and well-being. From ancient traditional remedies to modern scientific research, we invite you to explore the rich history, nutritional composition, and diverse range of advantages that mango leaves offer. Whether you're seeking ways to improve digestion, enhance skin and hair health, or manage certain health conditions, this in-depth exploration will equip you with the knowledge to harness the power of mango leaves for a healthier and happier life.
Mango and Wrong Food Combinations: How Harmful Are They? – Our dedicated page is a comprehensive guide that will help you make informed choices when it comes to enjoying mango while maintaining a healthy diet. Discover the bad food combinations to avoid with this fruit and understand why certain pairings can be harmful. We'll delve into what should not be eaten with mango and provide valuable insights into the dangerous food combinations you should steer clear of. But it doesn't end there! We'll also share essential information on the foods you must avoid after consuming mango to ensure optimal digestion and well-being.
Mango Seeds Health Benefits – Explore the incredible health benefits of mango seeds. Learn about their nutritional value, potential medicinal properties, and how to incorporate them into your diet. Discover the hidden treasures within mango seeds.
Mango Powder: Health Benefits and Nutritional Value – Discover the health benefits and nutritional value of mango powder. Learn how this versatile ingredient can enhance your well-being and add a burst of flavor to your dishes.
Mango and Weight Loss: Discover the Benefits for Effective Weight Management – Experience the sweet journey to weight loss with our new page dedicated to the incredible power of mango. Discover the nutritional benefits, delicious recipes, expert tips, and more. Start your weight loss adventure today!