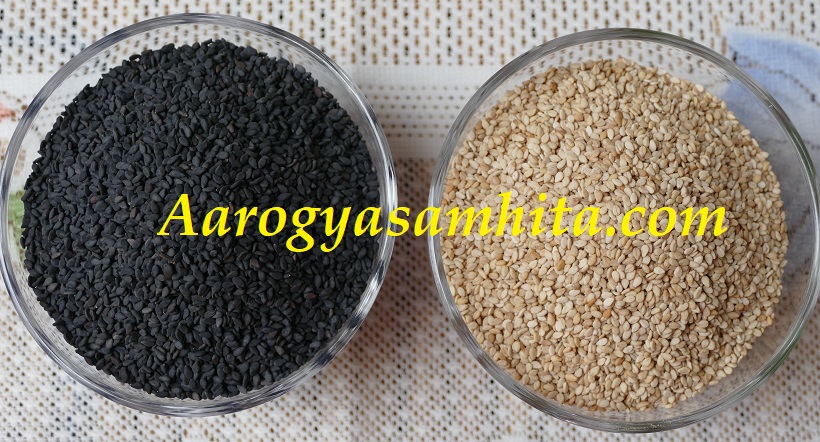 It is very important to choose organic variety of sesame to get its full benefits. But how to find out which is organic and which is chemical free variety of sesame seeds? May be there are various ways to find it out. But just by looking at it carefully anyone can recognize the organic form. Organic sesame seeds are small in size and are not pure white in color. They have a cream color layer on it. Take a closer look at images and you will get an idea. Sesame Seeds is also known as Sesamum indicum (Scientific Binomial Name), Gingelly (Common English), Tila / Snehphala (Ayurvedic), Kunjad / Til (Unani), Safed til (Hindi / Urdu), Cirrel / Tilam / Ellu / El / Nallennai – oil (Tamil), Til (Marathi), Tila (Sanskrit), Til (Bengali), Tillu (Telugu), Ellu (Kannada), Enna (Malayalam).
Sesame Seeds Benefits and Nutrition Facts
Treat Nosal Problems: The best oil for "vata dosha" is sesame, which is heavy and warming. Put 3 to 5 drops of warm sesame oil into each nostril, to clean the sinuses and also improves voice, vision, and mental clarity. This is also effective for relieving depression. In dry climates, and during cold winters when the house is heated with dry air, nose drops help to keep the nostrils lubricated.
Black Sesame Seeds for Anemia: Black sesame seeds contains lots of iron and helps to recover weakness fast. Soak 1 tea spoon of black sesame seeds in warm water for 2 hours. Grind and strain the water. Add this water in one cup of milk. Add sugar or jaggery to taste. Drink everyday to treat iron deficiency anemia.
Sesame in Pneumonia: Sesame seeds are valuable in pneumonia. An infusion of the seeds, mixed with a tablespoon of linseed,a pinch of common salt and a desert spoon of honey, should be given in the treatment of this disease. This will help remove catarrhal matter and phelgm from the bronchial-tubes. The pain of pneumonia can be relieved by rubbing oil of turpentine over the rib cage and wrapping warmed cotton wool over it.
Sesame Seeds for Menstrual Disorders: Sesame seeds are also useful in menstrual disorders. Half a teaspoonful of powder of these seeds taken with hot water twice daily acts excellently in reducing spasmodic pain during menstruation in young unmarried anaemic girls. Its regular use, two days prior to the expected periods, cures scanty menstruation. Warm hip bath containing a handful of bruised sesame seeds should be simultaneously taken along with this receipt. For bladder atonia (bladder's sphincter loses its tone or strength, and the bladder leaks urine), take one handful of white sesame seeds along with 1 teaspoon of jaggery or natural, unrefined brown sugar, and chew it well, followed by half a cup of water to wash it down. This is a very simple remedy to bring tone back to the bladder. Take it once or twice a day until your condition is better.
For tinnitus, ringing in the ears, gently rub the mastoid bone behind your ear with warm sesame oil. Try it twice day, morning and evening, for a week, and see if it helps.
To treat foot pain try making a stimulating salve. Combine three drops clove oil, thought to be a mild circulation booster, and three tablespoons sesame oil. Mix the ingredients well and massage the oils into your aching feet.
Til Oil Uses
Every morning before your bath or shower, rub 6 to 9 ounces of warm sesame oil all over your body, from head to toe. Sesame oil is warming and heavy and will help to balance vata. Then take a nice warm shower. Leave a little of the oil on your skin. Sesame oil, which is warming, is beneficial for all constitutional types in the winter. At the end of the day, rub a small amount of sesame oil on scalp and on the soles of feet. Try giving yourself a gentle massage around the sinuses and throat area using just a touch of sesame oil. Receding gums expose the roots of the teeth, and then both the gums and teeth become sensitive to cold and more susceptible to infection. To help with this problem, take a mouthful of warm sesame oil, and swish it around in your mouth for about 3 minutes before going to bed. Then massage your gums with your index finger. It is better not to rinse with water afterward; leave the oil residue in your mouth. This is an excellent preventive measure for receding gums, tooth infection, and cavities.
Sesame Seeds – Calcium King
1 ounce of roasted sesame seeds contains about 280 milligrams of calcium. Sesame seed is rich source of calcium and magnesium. Sesame seeds are another good source of nourishment. They contain all the essential amino acids in their 20% protein content and higher concentration of calcium than does milk. They are high in letichin, unsaturated fats, vitamin E and vitamin B complex, besides other live nutrients. Eat a handful of white sesame seeds every morning. One handful of these small seeds contains about 1,200 mg. of calcium and magnesium and is a good source of nourishment for body, nail and hair beauty.
Effective Yeast Treatment with Sesame
Yeast overgrowth can be a contributing factor in vaginal dryness. Cotton swabs lubricated with sesame oil can be inserted vaginally overnight to improve dryness. Use a sanitary pad to catch any leakage of the oil. Consider tying a clean thread or string to the cotton to help you remove it in the morning.