As fall approaches, pumpkins become a staple of the season. From pumpkin patches to pumpkin spice lattes, these orange gourds have become a symbol of autumn. But have you ever stopped to think about where they come from and why we love them so much? They are native to North America and have been around for thousands of years. Archaeologists have uncovered pumpkin seeds in Mexico dating back to 7000-5500 BC. Early settlers introduced it to Europe, and they quickly became popular. Today, pumpkins are enjoyed in a variety of ways, from being decorated for Halloween to being used in recipes.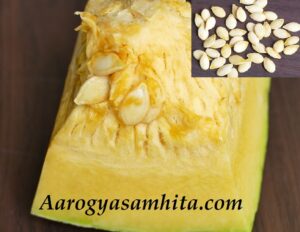 Pumpkin Nutrition Facts and Calories Chart
Pumpkins are an excellent source of nutrition, providing high levels of essential vitamins and minerals. They are especially rich in Vitamin A, as well as Vitamin C, iron, magnesium, and potassium. Pumpkins are also a good source of fiber and contain small amounts of calcium, phosphorus, and zinc. Eating pumpkins can help support healthy vision, immunity, and digestion, while helping to maintain healthy bones and muscles. Nutritional value per 100 g pumpkin:
Biotin: 0 mcg
Calcium: 18 mg
Carbohydrates (Carbs): 7 g
Chloride: 11 mg
Cholesterol: 0 mg
Choline: 6 mg
Chromium: 0.2 mcg
Copper: 0.3 mg
Dietary Fiber: 1.1 g
Energy (Calories): 26 kcal
Fat: 0.1 g
Iodine: 0.2 mcg
Iron: 0.4 mg
Magnesium: 12 mg
Manganese: 0.1 mg
Molybdenum: 0.8 mcg
Pantothenic Acid: 0.2 mg
Phosphorus: 24 mg
Potassium: 340 mg
Protein: 1 g
Saturated fat: 0.03 g
Selenium: 0.3 mcg
Sodium: 4 mg
Sugars: 2 g
Vitamin A: 782 IU
Vitamin B1 (Thiamin): 0.1 mg
Vitamin B2 (Riboflavin): 0.1 mg
Vitamin B3 (Niacin): 0.6 mg
Vitamin B5 (Pantothenic Acid): 0.2 mg
Vitamin B6: 0.2 mg
Vitamin B9 (Folate / Folic Acid): 17 mcg
Vitamin B12: 0 mcg
Vitamin C: 6 mg
Vitamin D: 0 IU
Vitamin E: 0.2 mg
Vitamin K: 2.5 mcg
Water: 89 g
Zinc: 0.2 mg
Pumpkin in India
Pumpkin is a variety of winter squash recognized by its smooth, round shape and hard-ribbed, orange colored rind. The most popular way to enjoy pumpkins is in food. Pumpkins are packed with vitamins and minerals, making them a nutritious addition to any meal. From soups and sauces to pies and pastries, the possibilities are endless when it comes to cooking with pumpkins. Not only are they delicious, but they add a unique flavor and texture to any dish. Pumpkins also make great decorations. Whether you're carving a jack-o-lantern or putting together a decorative centerpiece, pumpkins can help you create a festive atmosphere. With a few simple supplies, you can transform a plain pumpkin into a work of art. Pumpkins are a great way to celebrate the fall season. Whether you're enjoying a pumpkin spice latte or carving a jack-o-lantern, pumpkins are a surefire way to get into the spirit of the season. So grab a pumpkin and start celebrating.
Scientific Binomial: Cucurbita Pepo / Cucurbita moschata
Common English: Marrow / Butternut Pumpkin / Butternut Squash
Ayurvedic: Kumshmaanda
Unani: Safed Kaddu / Kumhraa
Sanskrit: Karkaru / Kurkaru / Kurlaru / Kushmanda
Hindi / Urdu: Kumrha / halwa kaddu / kashiphal / mitha kaddu / petha
Bengali: Kumro / Safed Kaddu / Lanka / Kumara
Marathi: Kohala / Bhopli / Kala Bhopala
Telugu: Budadegummadi / Budide-gummadi / Gummadi
Tamil: Suraikayi / Parangi / Pucani
Gujarati
Kannada: Bude-kumbala-kayi / Bileegumbala / Boodugumbala / Sihi Kumbala Kaayi
Malayalam: Kumpalam / Kumpalanna / Mattanna
Oriya
Punjabi / Sindhi
Assamese
Kashmiri
Konkani
Manipuri
Dogri
Bhojpuri
Home Remedies
While pumpkins are best known for pie and Halloween, its seeds offer well-established nutritional benefits. Full of high-grade essential fatty acids and trace elements, notably zinc, the seeds make an excellent food supplement. Pumpkins are good in the treatment of back ache, boils, bruises, burns, cancer, diarrhea, ear ache, fever, fractures, gout, headaches, kidney stones, muscle injuries, neuralgia, prostatitis, sprains, tendonitis, and worms.
Pumpkin Butter: It is one more way to include it in everyday diet. Put some seeds in blender and whirl for few minutes to get pumpkin butter. It is a delicious spread for sandwiches or crackers.
Psoriasis: It is rich source of vitamin A, E and zinc, which makes it food remedy for psoriasis.
Repairs Tissue: Pumpkins also contains carotenes. Carotenoids are potent antioxidants, help with immune function, and are involved with the growth and the repair of tissues.
Depression: Advance research suggest that L-tryptophan from pumpkin may help to relieve depression.
Stress: Pumpkin seeds, which contain high quantities of zinc, iron, and calcium, as well as B vitamins and proteins, which are necessary for brain function, will help you to deal with the effects of stress.
Minor Burns: To treat burns try ice-cold mashed pumpkin.
Prostate Problems: Pumpkin seeds have been found to be an effective home remedy for prostate problems and many patients have been helped by their use. These seeds are rich in unsaturated fatty acids which are essential to the health of the prostate. Eat a handful of unroasted pumpkin seeds each day. The seeds, which are an old folk remedy for prostate enlargement still often recommended today, are a rich source of zinc. And for the same reason it is also helpful for people with Alzheimer's.
Intestinal Worms: To treat intestinal worms – especially tapeworms, the seeds of the ripe pumpkin are useful. An infusion, prepared from the seeds after they are peeled and crushed, will kill parasites and help in expelling the tapeworm. It will be necessary to fast for a day and empty the intestines by taking the juice of boiled dry prunes. The next day, three or four tumblers of this pumpkin seed infusion should be taken. As large amount of seeds need for this treatment so seek professional advice. Also pumpkin pie or other great tasting pumpkin recipes are good way to expel intestinal worms.
Menopausal Symptoms: Key constituents within the seeds have an estrogenic activity, so regular intake may prove helpful in relieving menopausal symptoms.
Gout: For treating edema, gout, kidney stones, urinary burning and difficult urination – try pumpkin seeds. Crush a handful of the seeds and then add to a liter of boiling water, cover, and simmer on low heat for about 20 minutes, then steep away from the heat for an additional half an hour. Drunk several cups of the strained liquid each day as needed until the desired relief is obtained.
Torn Ligaments: In the treatment of sprains, bruises, torn ligaments – try pumpkin leaves poultice. Pick some fresh pumpkin leaves and pound with hammer or small round stone in order to macerate them a little, before being bound on a sprain or dislocation of some sort. It help to take the swelling down quite a bit and seem to hasten the healing process when other internal remedies for inflammation are used.
Headaches: In certain parts of India and Europe the scraped pulp of fresh pumpkin or yellow and orange squash is applied to the forehead and temples as a cooling application to relieve intensely splitting headaches. And the same grated pulp is also applied to the sides of the face, neck and throat to relieve neuralgia or to draw out the purulent matter in ripe boils.
Heart Health: Cold infused pumpkin oil is high in essential fatty acids and vitamin E. The lack of essential fatty acids may leads in arthritis, skin diseases, menstrual and menopausal problems, and heart disease.
Eating Disorder: Anorexia nervosa has been linked to a zinc deficiency. Pumpkin seeds are an excellent source of this mineral. Eat a quarter to a half cup daily. Men should snack regularly on pumpkin seeds. They're an excellent source of zinc, a nutrient that's an important part of male reproductive fluids.
Kidney Stone: Consuming these seeds also reduces risk factors for kidney stone formation.
Prostate Enlargement: Pumpkin seed oil is often used in combination with saw palmetto (Serenoa repens) for the relief of BPH symptoms. Take 160 mg three times daily with meals.