Amla, also known as Indian Gooseberry, is a powerhouse of nutrients with a long history of medicinal use. Rich in Vitamin C, Vitamin A, polyphenols, minerals, and antioxidants, this superfood has been used for centuries to treat a wide range of ailments. From boosting immunity to reducing inflammation, amla may be one of nature's most effective remedies. In this post, we take a closer look at the amazing health benefits of amla and why you should consider adding it to your diet.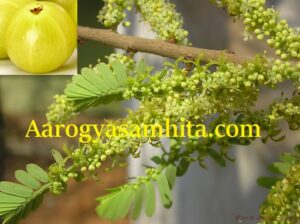 Amla Nutritional Value and Calories Chart
It is a powerhouse of nutrients and is known for its many health benefits. It is high in vitamin C, vitamin A, calcium, iron, and other essential minerals. Also a rich source of antioxidants, which help protect the body from free radical damage. Amla has been shown to support healthy digestion, improve immunity, and reduce inflammation. It is also thought to help regulate blood sugar levels, aid in weight loss, and reduce cholesterol levels. Overall, amla is an excellent choice for a healthy, nutrient-rich diet. Nutritional value per 100 g amla (Indian Gooseberries):
Biotin: 0 µg
Calcium: 37 mg
Carbohydrates (Carbs): 9.5 g
Chloride: 29 mg
Cholesterol: 0 mg
Choline: 4.0 mg
Chromium: 0.1 µg
Copper: 0.2 mg
Dietary Fiber: 2.1 g
Energy (Calories): 43 kcal
Fat: 0.2 g
Iodine: 0 µg
Iron: 0.4 mg
Magnesium: 11 mg
Manganese: 0.2 mg
Molybdenum: 0.2 µg
Pantothenic Acid: 0.3 mg
Phosphorus: 22 mg
Potassium: 107 mg
Protein: 0.7 g
Saturated fat: 0.1 g
Selenium: 0.2 µg
Sodium: 3 mg
Sugars: 6.2 g
Vitamin A: 30 IU
Vitamin B1 (Thiamin): 0.1 mg
Vitamin B2 (Riboflavin): 0.04 mg
Vitamin B3 (Niacin): 0.5 mg
Vitamin B5 (Pantothenic Acid): 0.3 mg
Vitamin B6: 0.06 mg
Vitamin B9 (Folate / Folic Acid): 3 µg
Vitamin B12: 0 µg
Vitamin C: 30 mg
Vitamin D: 0 IU
Vitamin E: 0.2 mg
Vitamin K: 1.6 µg
Water: 84 g
Zinc: 0.1 mg
Amla In India
It is useful for reducing inflammation in the digestive tract, assisting the bowels and strengthening the heart. It is an ingredient of a large number of Indian Ayurvedic preparations. The important ones, in which amla is the main ingredient are: Amalaki Rasayana, Triphala, and Chavanprasha.
Scientific Binomial: Phyllanthus emblica
Common English: Indian Gooseberry
Ayurvedic: Amalika
Unani: Amia
Sanskrit: Amalika
Hindi / Urdu: Aavnlaa / Awala
Bengali: Amloki
Marathi: Avala
Telugu: rasi usiri / Vusirikaya
Tamil: Nellikaai / Yantikoram
Gujarati
Kannada: Bettada nellikaay
Malayalam: Nelli
Oriya
Punjabi / Sindhi
Assamese
Kashmiri
Konkani
Manipuri
Dogri
Bhojpuri
Amla Health Benefits
According to Ayurveda amla has uncountable health benefits. It is sour but not acidic like other fruits. It is astringent but sweet. Some popular amla recipes are candy, pickle, chutney, launji, murabba, sabji fry, supari pachak, mukhwas, and chyawanprash.
Vitamin C King: Its massive Vitamin C content is one of the highest in the vegetable kingdom. It contains Vitamin C equivalent 20 times that of an orange. On tasting the fruit, it is initially sour, but sometimes with a sweet aftertaste, which becomes more apparent if water is drunk afterwards.
Rejuvenate Life: A regular use of Indian gooseberry prolongs lifespans, up to 120 years for humans. Its use not only increases human life but also improves the quality. It imparts memory, balanced intellect, health, youthfulness, lustrous body and a clear voice. In winter, when vitality is low, amla with ashwagandha, ghee and honey is restorative and invigorating. Its regular use will promote vigor and vitality in the body within a few days.
Improve Memory: It helps reduce tendencies for headaches, confusion of thought, psychic disorders and memory loss. Amla, when administered with ghee, honey and oil for one month, is a geriatric tonic for general debility, lack of disease resistance and memory loss. It overcomes the degenerative effects of old age.
Leucorrhoea: 1 g dose of equal quantities of amla and guggal with honey, three times a day was effective in leucorrhoea.
Tuberculosis: Amla is useful in the treatment of tuberculosis. Take a tablespoonful each of fresh amla juice and honey mixed together every morning in this condition.
Skin Aid: Try poultice in case of wounds or swellings. Heat the coarse powder is with water and apply as a poultice.
Home Remedies
Amla possesses antipyretic, analgesic, antitussive, antiatherogenic, adaptogenic, cardioprotective, gastroprotective, antianemia, antihypercholesterolemia, wound healing, antidiarrheal, antiatherosclerotic, hepatoprotective, nephroprotective, and neuroprotective properties.
Treat Hair Problems: Amalaki water is best for many hair problems. To make amla water, soak dried amla pieces overnight. Use this water for the last rinse while washing the hair.
Premature Greying of Hair: Massaging the scalp with a teaspoonful of amla juice mixed with a teaspoonful of almond oil or few drops of lime juice, every night has proved beneficial in the prevention and treatment of premature greying of hair.
Dandruff: To remove dandruff massage hair with a few drops of lime juice mixed with amla juice every night, before going to bed.
Anemia: Amla is a common fruit that has been mentioned in Ayurveda in the management of anemia.
Prevent Abortion: Amla is also useful in preventing abortion. Take a teaspoonful of fresh amla juice and honey mixed together every morning during the period of pregnancy. It will also prevent infections and help in the absorption of iron. A brew made from safflower foliage is also said to prevent abortion.
Diabetes Control: It is useful for sugar control in diabetes. A tablespoon of the juice with a cup of bitter gourd juice, or with equal quantities of powder of seed kernel of Syzgium cumini, taken daily for two months, surely stimulates the pancreas and causes insulin secretion.
Lowers Blood Pressure: Indian gooseberry is effective food remedy for high blood pressure. Take a tablespoonful each of fresh amla juice and honey together every morning in this condition. Lemon is also a valuable food to control high blood pressure. It is a rich source of vitamin P which is found both in the juice and peel of the fruit. This vitamin is essential for preventing capillary fragility.
FAQs.
Q. How to prepare amla (Indian gooseberry) oil at home?
Amla oil, prepared by boiling dry pieces of amla in coconut oil, is considered a valuable hair tonic for enriching hair growth. This is very useful in the prevention or treatment of premature greying of hair and valuable hair tonic for enriching hair growth and hair pigmentation. A mixture of equal quantity of fresh amla juice and lime juice used as a shampoo stimulates hair growth and prevents hair loss. Rubbing a little amla oil on scalp is beneficial for hair. Amla oil is favorable for healthy growth of hair, and help maintain the hair's natural luster. Main thing, it is fine for all body types. Here is step by step DIY recipe:
Cut amla in small pieces and dry them in shade.
Boil the coconut oil.
Add the dried pieces of amla and boil again till solid matter become little charred dust.
It will lead into darkish oil.
Cool and fill in dry jar for further use.
Q. How Amla is effective for cholesterol?
It is an effective home remedy for heart disease in Unani system of medicine. Its affinity for the blood helps to nourish and protect the heart. It tones up the functions of all the organs of the body and builds up health by destroying the heterogeneous elements and renewing lost energy. It protects by reducing elevated cholesterol and healing arterial damage. Recent study shows that aqueous extract of the fruit increases cardiac glycogen level and decreases serum GOT,GPT and LDH. Some popular Unani medicines with amla is Raughan-e-Aamlaa which is useful in falling of hair, as a hair tonic.